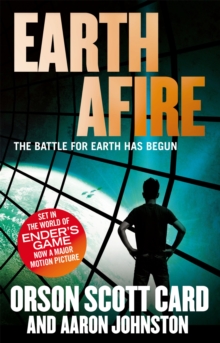 Earth Afire : Book 2 of the First Formic War
Paperback / softback
Description
'A standout tale of SF adventure that gives Ender series fans fascinating backstory to the classic Ender's Game' Library Journal on Earth UnawareTHE FUTURE OF HUMANITY HANGS IN THE BALANCEOne hundred years before Ender's Game, the aliens arrived on Earth with fire and death.
This is the story of the First Formic War. Victor Delgado beat the alien ship to Earth, but just barely.
Not soon enough to convince sceptical governments that there was a threat.
They didn't believe that until space stations and ships and colonies went up in sudden flame. And when that happened, only Mazer Rackham and the Mobile Operations Police could move fast enough to meet the threat . . . Following Earth Unaware comes this thrilling second novel in the First Formic War - a space adventure series set in the world of bestselling science fiction classic Ender's GameBooks by Orson Scott Card:Alvin Maker novelsSeventh SonRed ProphetPrentice AlvinAlvin JourneymanHeartfireThe Crystal CityEnder Wiggin SagaEnder's GameSpeaker for the DeadXenocideChildren of the MindEnder in Exile HomecomingThe Memory of the EarthThe Call of the EarthThe Ships of the EarthEarthfallEarthbornFirst Formic War (with Aaron Johnston)Earth UnawareEarth AfireEarth Awakens
Information
Format:Paperback / softback
Pages:480 pages
Publisher:Little, Brown Book Group
Publication Date:04/06/2013
Category:
ISBN:9780356502755
Also in the First Formic War series | View all