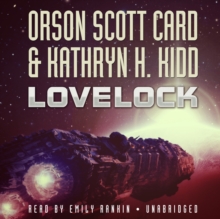 Please note: eAudiobooks can only be purchased with a UK issued credit card.
Description
Orson Scott Card, bestselling author of Ender's Game, teams up with Kathryn H.Kidd to launch an epic science fiction saga of space exploration-and adramatic conflict between human and nonhuman intelligence.
On the Ark, a colonyship bound outward across the stars, not everyone is a volunteer-or even human.Lovelock is a capuchin monkey engineered from conception to be the perfect servant:intelligent, agile, and devoted to his owner. He is a "witness," privileged tospend his days and nights recording the life of one of Earth's most brilliantscientists via digital devices implanted behind his eyes.
But Lovelock issomething special among witnesses. He's a little smarter than most humans: smart enough to break through some of his conditioning, smart enough to feelthe bonds of slavery-and want freedom.
Set against the awesome scope of interstellar space, and like Speaker for the Dead and Xenocide before it, Lovelock probes the provocative interface between humanity and another sentient species.
Information
Format:eAudiobook MP3
Run-time:11 hours 45 mins
File size:645.42MB
Publisher:Blackstone Publishing
Publication Date:15/05/2013
Category:
ISBN:9781483061252