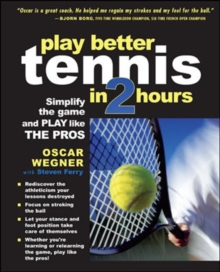 PLAY BETTER TENNIS IN TWO HOURS : Simplify the Game and Play Like the Pros
Paperback
Description
Can tennis really be this simple?Just ask the dozens of world-class players who have made it to the top using Oscar Wegner's groundbreaking approach.
But if playing tennis isn't so easy for you, if you never seem to play up to your potential, don't blame yourself-blame the coach who taught you a lot of uselessly complex techniques.
Play Better Tennis in 2 Hours is your guide to tennis as the pros play it-more intuitive, more fluid, and more fun.
World-renowned tennis coach and ESPN commentator Oscar Wegner shows you how to focus your efforts on one thing-hitting the ball correctly.
Your own natural athleticism will take care of everything else.
Follow the simple drills in this power-packed handbook, and you'll learn how to:Move to the ball efficiently and fluidlyStop worrying about foot position and stanceHit every stroke harder and more accuratelyPut a wicked topspin on your forehandMaster both one- and two-handed backhandsCombine control and power on your volleysPut more speed and spin into your serve and more punch in your return"Known and respected all around the world, Oscar has given us another great contribution to tennis with this book."-Gustavo Kuerten, three-time French Open champion"Oscar has broken the mold, demystifying the modern tennis stroke.
There's genius in his analysis of pro techniques-the dynamics of what the racquet does to the ball, how power and spin are added.
He understands how top pros really stroke the ball, and always have, all the way back to Tilden."-Andy Rosenberg, Director for NBC Sports Wimbledon and French Open
Information
Format: Paperback
Pages: 224 pages
Publisher: McGraw-Hill Education - Europe
Publication Date: 01/11/2004
Category: Tennis
ISBN: 9780071437172
Free Home Delivery
on all orders
Pick up orders
from local bookshops