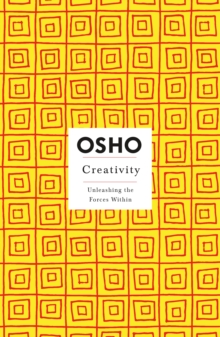 Creativity : Unleashing Forces Within
Paperback
Description
As Osho points out in the foreward to this book, historically, the creative person has been all but forced to rebel against the society.But nowadays, the situation has dramatically changed.
In today's world, the ability to respond creatively to new challenges is demanded of everybody, from corporate CEOs to "soccer moms." Those whose toolbox for dealing with life includes only what they have learned in the past from their parents and their teachers are at a distinct disadvantage both in their relationships and in their careers.
Making a switch from imitative and rule-bound behavior to creative innovation and flexibility requires a profound change in our attitudes about ourselves and our capabilities."Creativity "is a handbook for those who understand the need to bring more creativity, playfulness, and flexibility to their lives.
It's a manual for thinking "outside the box"-and learning to live there as well.
Free Home Delivery
on all orders
Pick up orders
from local bookshops
Reviews
Showing 1 - 1 of 1 reviews.
Review by JudyCroome
16/06/2015
Osho's philosophy always hits home. By the time I'd finished reading this book, my view of creativity had changed completely. I was both exhilarated and in despair at the insights revealed to me. Exhilarated, because some force – some unknown thing—inside me found freedom to breathe with every page I read. In despair because, as I realised I had the key to my personal creative freedom in my hand, I knew that the chances of me getting published in the traditional way was even more remote. This book pulls no punches when it forces you to understand what true creativity is: a fragrance of freedom that blends together both feeling and action into an awareness that translates into a uniquely individual creative expression. I was reminded that each and every one of us comes into this world with a specific destiny; the Divine has a task for us and, whether that task (in my case, writing my novels) is recognised by the collective is less important that whether I love what I do for the sake of doing it. From now on, I'll never wash the kitchen floor again…I'll be painting an invisible picture with my mop! My enthusiasm for my chosen craft—one in which the odds *against* success are overwhelming—has been restored. And my creative forces have truly been unleashed with the simple wisdom contained in this volume.
Also in the Insights for a New Way of Living series