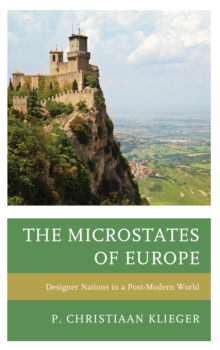 The Microstates of Europe : Designer Nations in a Post-Modern World
Paperback / softback
Description
The seven microstates of Europe, i.e. Andorra, Liechtenstein, Monaco, Malta, San Marino, Sovereign Order of St.
John, and Vatican City are remarkable not only for their size, but their persistence.
Most have been around for centuries, while much larger empires have come and gone.
Despite the great events of the last two millennia, these countries have come into existence and have managed to steer a course away from incorporation within their larger neighbors.
Why is this? Rather than being an exercise in triviality, the study in The Microstates of Europe: Designer Nations in a Post-Modern World of the histories of these tiny states may provide insight into tenaciousness of national aspirations and ethnic solidarity that are everywhere evident.
Modernist studies tend to view the microstates as illogical anomalies destined to disappear under the crush of social progress.
However, these states are anything but marginal-in fact, they are among the richest states in the world.
This book examines the phenomenon from structural history and anthropological perspectives.
It is not a grand history of petite places-rather, it is an "ethnographic anthology" of a few places in Europe that should not logically exist.
The Microstates of Europe is a post-modern critique of the trends of globalism, and it examines the counter-trend of increasing nationalism, particularism, and cultural relativism.
Rather than being eclectic exceptions, the microstates may demonstrate the survival of extremely long enduring mechanisms of collective boundary maintenance that are most likely present in many communities throughout the world.
Information
Format: Paperback / softback
Pages: 242 pages, 23 Halftones, black and white
Publisher: Lexington Books
Publication Date: 16/07/2014
Category: Regional studies
ISBN: 9780739197967
Free Home Delivery
on all orders
Pick up orders
from local bookshops
Also by P. Christiaan Klieger