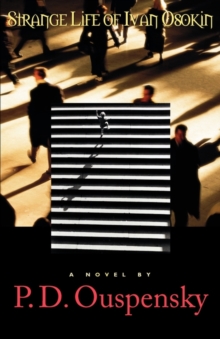 Strange Life of Ivan Osokin : A Novel
Paperback
Description
"If I had my life to live over again..." Well, what would you do?
Here is the story of Ivan Osokin, a young man who has squandered every chance life has given him.
A failure at school, ruined financially, and rejected by the woman he loves, he finds himself at a dead end.
He wishes to live his life over again so he can avoid all his mistakes.
Then he meets a magician who gives him that chance. A gripping, cinematic story exploring 'eternal recurrence' -- the idea that we live our lives over and over again, and that nothing will ever change unless we ourselves change.
Information
Format: Paperback
Pages: 192 pages
Publisher: SteinerBooks, Inc
Publication Date: 01/07/2002
ISBN: 9781584200055
Free Home Delivery
on all orders
Pick up orders
from local bookshops
Reviews
Showing 1 - 1 of 1 reviews.
Review by rtk101
16/06/2015
When your boss tells you one day that he took and English degree, and loved this book, you may well expect the worst. As a science graduate, I remember the books my English Degree friends used to read. But, I gave this one a go, on the boss' advice. And I am not disappointed. The book tells the tale of a young man who's life just doesn't go the way he wanted, and when given the opportunity to live it all over again by a "magic man", he does so. However, he finds that he is predisposed to make the same decisions over again, resulting in a similar outcome to before. The wonderful elements of the easy style, the historical observations, and the characters make this a fascinating view into the psychology that drives us in our everyday lives. Why we do what we do, and whether we really can change as people. I loved this, as I see a little of myself in Ivan. Highly recommended.