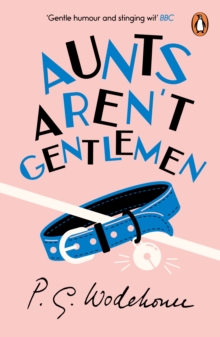 Aunts Aren't Gentlemen : (Jeeves & Wooster)
Paperback
Description
A Jeeves and Wooster novelBertie Wooster has been overdoing metropolitan life a bit, and the doctor orders fresh air in the depths of the country.
But after moving with Jeeves to his cottage at Maiden Eggesford, Bertie soon finds himself surrounded by aunts - not only his redoubtable Aunt Dahlia but an aunt of Jeeves's too.
Add a hyper-sensitive racehorse, a very important cat and a decidedly bossy fiancee - and all the ingredients are present for a plot in which aunts can exert their terrible authority.
But Jeeves, of course, can cope with everything - even aunts, and even the country.
The final Jeeves and Wooster novel shows P.G. Wodehouse still able to delight, well into his nineties.
Information
Format: Paperback
Pages: 192 pages
Publisher: Cornerstone
Publication Date: 07/08/2008
Category: Classic fiction (pre c 1945)
ISBN: 9780099513971
Free Home Delivery
on all orders
Pick up orders
from local bookshops
Reviews
Showing 1 - 3 of 3 reviews.
Review by wisewoman
16/06/2015
When the sudden appearance of some pink spots on his chest drives Bertie to a doctor, one E. Jimpson Murgatroyd, that worthy's stern warnings then drive this typical young-man-about-town to the fresh air, healthy food, and restful retirement of country living. But Bertie's readers know that such idyllic countryside tranquility is never to be his portion, and so it proves. For in the quiet of Maiden Eggesford, such evils as horse-racing, romantic entanglements, jealous lovers, angry aunts, plausible poachers, and an over-friendly cat all conspire to wreak havoc with Bertie's peace of mind and render E. Jimpson Murgatroyd's dictums vain.The title refers to Bertie's Aunt Dahlia, who has a tremendously large bet on the upcoming horse-race and who will stick at nothing – not even cat-napping – to make sure her horse wins. In Aunt Dahlia's view, it's an accepted business maneuver to seek to incapacitate the competition via any means possible. It is precisely this attitude which leads her nephew to the sad conclusion that the problem with aunts is that they are not gentlemen. Indeed they are not!Though this is a fun romp in P. G. Wodehouse's inimitable style, it isn't the best or most memorable of the Jeeves and Wooster stories. Jeeves plays a less active role in this tale, only saving Bertie from bodily dismemberment on one occasion, and visiting an aunt who turns out to be the real owner of the disputed cat. The romantic imbroglio is sorted with rather less than the usual contortion, with Bertie slipping out of his unwilling engagement when the beautiful Madeline elopes with the Communist Orlo Porter. Of course Wodehouse always reuses his plots and formulas, and experienced readers can spot the coming disaster chapters ahead, but somehow this one just seemed less inventive than others in the series.But having said that, I certainly cackled aloud in one or two places (one of which was Bertie's ruminations on the best local poacher being one Billy Graham; poaching being, in Bertie's mind, "the sort of activity Mr Graham would rather have frowned on, being in his particular line of business"). Though not my favorite, <I>Aunts Aren't Gentlemen</I> is still vintage Wodehouse and thoroughly enjoyable.
Review by ASBiskey
16/06/2015
This is my first literary encounter with Jeeves and Wooster, and I would say it was a positive experience. The story telling is delightful. The wit and humor made this a fun read. It did take me a while to get used to Bertie's narration though. First person narration is fine, but in this case it felt very short-sighted, as though Bertie could not see more than three feet in front of him. There is a lack of description of anything outside the current action that puts everything Bertie does under a magnifying glass. He is a wonderful, entertaining character, but a bigger picture would have been appreciated. I enjoyed reading this, and will not hesitate to read other works by Wodehouse if they come my way.
Review by SebastianHagelstein
16/06/2015
Bertie Wooster and Jeeves go to the country after a doctor tells Bertie to get some fresh air when he worries about the pink spots that appear on his chest. But when he gets there Bertie gets mixed up with a stolen cat and horse racing. He becomes engaged against his will and needs Jeeves' help to extricate himself from that mess too.This is as funny, as all his books are, and I like the cat..
Also in the Jeeves & Wooster series | View all