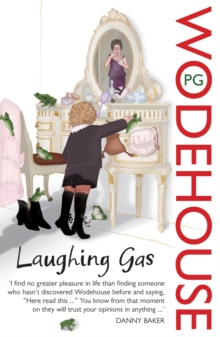 Description
A P.G. Wodehouse novelJoey Cooley is a golden-curled child film star, the idol of American motherhood.
Reginald, Third Earl of Havershot, is a boxing blue on a mission to save his wayward cousin from the fleshpots of Hollywood.
Both are under anaesthetic at the dentists when something strange happens - and their identities are swapped in the ether. Suddenly Joey can use his six-foot frame to get his own back on his Hollywood persecutors.
But Reggie has to endure everything Joey had to put up with in the horrible life of a child star - including kidnap. Laughing Gas is Wodehouse's brilliantly funny take on the 'If I were you' theme - a wry look at the dangers of getting what you wish for in the movie business and beyond.
Information
Format: Paperback
Pages: 304 pages
Publisher: Cornerstone
Publication Date: 02/10/2008
Category: Classic fiction (pre c 1945)
ISBN: 9780099514121
Free Home Delivery
on all orders
Pick up orders
from local bookshops
Reviews
Showing 1 - 2 of 2 reviews.
Review by quantum_flapdoodle
16/06/2015
Wodehouse is such a legend, I didn't quite know what to expect, since this is the first of his books I've picked up. I wouldn't call it great literature, but it is fun and light reading, a nice change from when everything has been a bit heavy. The plot is sort of a Freaky-Friday type body exchange (long before Freaky Friday, of course) when an English earl changes places with a precocious Hollywood child star. The child star delights in the new body, trained as a boxer, because he can run around "poking in the snoot" everyone who has mistreated him. It's not so delightful for the earl, who is stuck eating prunes for breakfast every morning in a body too small and weak to do anything but be dependent. A jolly ride, with some very good one-liners.
Review by Helenliz
16/06/2015
This is a sparkling little comedy from a master of the art. There's a humorous bumbling chap who finds himself inheriting the Earldom and all the family responsibilities that come with it - including rescuing his cousin Eggy from an unsuitable female he's found in Hollywood. A man less likely to be capable of rescuing anyone has probably never been written, but Reggie duly sets off - only to become smitten with a lady actress. *swoon*. By a madly convoluted means he finds himself in the body of a child star who ears knickerbockers, has blonde curly hair and in the care of an old harridan - the soul of the child star is now inhabiting his well pressed body. And the body swop story continues with varying degrees of peril and hilarity engendered when you land in the middle of someone's life - with no idea how they got there, or what might be creeping around the corner. The characters are all fairly stock types, there's not great character development here, but it is a great fun little read. Its rolls along at a reasonable rate and you find yourself wondering how this is ever going to play out - and of course it does all work out for the best in the end, but getting there is well worth the ride.