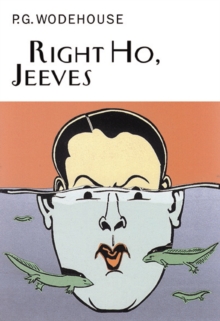 Right Ho, Jeeves
Hardback
Description
The trouble which begins with Gussie Fink-Nottle wandering the streets of London dressed as Mephistopheles reaches its awful climax in his drunken speech to the boys of Market Snodsbury Grammar School.
For Bertie Wooster's old friend has fallen in love with Madeline Bassett and, as usual, makes a hash of the affair until Jeeves comes to the rescue.
In the meantime, Jeeves must also solve the mystery of the white mess jacket, while sorting out the lives of Bertie's cousin Angela, her mother, and her mother's French chef.
In short, a normal working day for that prince among gentlemen's gentlemen in what must be a candidate for the name of the funniest novel in the English language.
Information
Format: Hardback
Pages: 304 pages
Publisher: Everyman
Publication Date: 01/04/2000
ISBN: 9781841591049
Other Formats
Paperback from £5.35
eAudiobook MP3 from £16.76
Free Home Delivery
on all orders
Pick up orders
from local bookshops
Reviews
Showing 1 - 2 of 2 reviews.
Review by ianw
16/06/2015
Superbly written Jeeves/Wooster story. Introduces the Fink-Nottle/Madeline Basset theme, amongst others. Features Gussie Fink-Nottle presenting the prizes at Market Snodsbury Grammar School, which must be amongst the best 10 or 15 pages he ever wrote.
Review by Eyejaybee
16/06/2015
I think that this novel is only really challenged by The Code of the Woosters for the honour of being the finest story about Bertie Wooster and Jeeves.There are a lot of things one can say about P G Wodehouse's books - immature, very childish, total unworldly, lacking in any political or ecological conscience … It is difficult to challenge any of those judgements (and I should know because most of them have been applied, regularly to me, too). However, I prefer to think of them as exquisite, beautifully written, faultlessly constructed, charming and ceaselessly entertaining. Sadly all too few of those epithets have ever been applied to me!Right Ho, Jeeves is, to my mind, the apotheosis of Wodehouse's world. His plots are always full of Byzantine twists, his characters are usually hilarious, but in this novel he excelled his own extremely high standards and brought off a comedy classic. There are two set pieces in particular (Gussie Fink-Nottle's address when presenting the prizes at market Snodsbury School's Speech Day, and the stream of outrage from Anatole, the sublimely talented yet extremely temperamental French chef, when Gussie appears to be pulling faces at him through the skylight of his bedroom) which must rank among the finest examples of humorous writing. If one is prepared briefly to suspend disbelief and enter Wodehouse's world the rewards are enormous. This particular book was first published in 1934, but is already looking back to an unspecified Corinthian past, largely of Wodehouse's own imagining. In this world, gentlemen always wear suits, and occasionally spats though never (in England, anyway) white mess jackets, or not, at least, if Jeeves has his way. They also never bandy a lady's name or break an engagement, no matter how disastrously they might view the prospect of nuptials. Bertie Wooster, though not the brightest chap ever to have ventured into metropolitan life, is a stickler for such correct behaviour, and frequently finds himself beset as a consequence.Wodehouse's writing is a joy - always grammatically perfect, yet he is able to capture the different voices with clinical precision. Bertie rambles in a manner now reminiscent of Boris Johnson (though without the egregious narcissism) [though, of course, in reality it is the other way round with Johnson trying to be like Wooster, but lacking the charm to pull it off] while Jeeves favours a cultured orotundity of speech, peppered with a mixture of highly scholarly references to poetry and philosophy bathetically contrasted with allusions to his rather bizarre-sounding family. The plots are immensely intricate, to the extent that they make Agatha Christie's novel seem entirely transparent, but Wodehouse always ties up every loose end, no matter how impossible that might seem even just one or two chapters from the end of the book.I have read this novel several times before, and am confident that I will read it several times again, as it never fails to cheer me up.
Also in the Everyman's Library P G Wodehouse series | View all