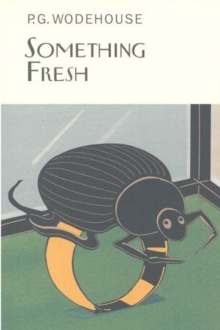 Description
This is the first of the Blandings Castle novels, introducing Lord Emsworth, his family, his secretary - the Efficient Baxter - and the mandatory Wodehouse cast of butlers, aunts, younger sons, detectives, lovers and imposters.
Take the 4.15 from Paddington Station to Shropshire and arrive in heaven.
Information
Format: Hardback
Pages: 272 pages
Publisher: Everyman
Publication Date: 01/03/2005
ISBN: 9781841591377
Other Formats
Paperback from £6.65
Hardback from £10.19
CD-ROM from £16.35
eAudiobook MP3 from £14.24
Free Home Delivery
on all orders
Pick up orders
from local bookshops
Reviews
Showing 1 - 2 of 2 reviews.
Review by CarltonC
16/06/2015
Another delightful Wodehouse book that introduces Blandings Castle, Lord Emsworth and the efficient Baxter, although they are the backdrop for the main story, which revolves around fellow-writers Ashe Marson and Joan Valentine, who live in the same boarding house in London. As is the way with coincidences in Wodehouse stories, they both go down to Blandings Castle to recover a valuable Egyptian scarab for Preston Peters (an American millionaire) after Lord Emsworth absent mindedly pockets the scarab when admiring the millionaire's collection and, because he cannot really remember how he acquired it, put it in his own museum as a gift from Preston Peters!As ever, there is much to enjoy, although by its nature, the characters are not as fully realised in the later stories. I found the book fascinating as it was published in 1915 and so has interesting social comments too, such as the cinema being open two days a week above the butchers (I recall) and comments on the enfranchisement of women, which was obviously topical, with women (over 30) not receiving the vote until 1918.
Review by abbottthomas
16/06/2015
Early Wodehouse and the first in the Blandings series, <I>Something Fresh</I> suggests to me the author trying on something new for size and gradually making himself comfortable. Particularly at the beginning of the book there is rather more descriptive chit-chat than I associate with the later works, and, of course, he is developing the cast of characters at Blandings that fans will come to love - Beach, Freddie Threepwood, the Efficient Baxter and Lord Emsworth himself. All four are immediately recognisable even if Beach is to become less hypochondriacal, Freddie marginally less vacuous, Baxter more Machiavellian and Clarence obsessed with fat pigs. We expect some characters to appear briefly on the stage to be replaced in later books by others of their ilk - the ingénue roles, the fat crooked investigator, the dyspeptic American millionaire - but other apparently established characters don't make the cut. The chatelaine of Blandings is Lady Anne Warblington, a sister of Emsworth's and an indistinct figure beside sister Connie who succeeds her. They do share a tendency to retire to their bedrooms at the first sign of trouble. The housekeeper, Mrs Twemlow, an important domestic figure, only makes one more brief appearance in the saga. McAllister must be in post but gets only one line, unnamed, as the "autocrat from Scotland". There are two 'young men in spats' visiting Blandings, Percy, Lord Stockheath, a cousin of Freddie and Algernon Wooster, a cousin of Percy, who plays billiards. Neither is heard of again: a pity as they might have helped to place Bertie in his extended family.<I>Something Fresh</I> was first published in America as <I>Something New</I>, with Ashe and Joan, hero and heroine, being cast as Americans. PGW rewrote the characters as English for the retitled UK issue. He didn't bother to change a couple of references to the US dollar - the rent for a room (with breakfast) in a court just off Leicester Square was $5 / week and half a dollar would buy you a roast dinner at Simpsons in the Strand. David Jasen in his Readers Guide to the Wodehouse <I>oeuvre</I> suggests that this book is often forgotten when discussing Blandings, possibly because it was published by Methuen rather than Herbert Jenkins.Other reviewers have described the plot more than adequately. It is well constructed but does rely on various coincidences and eavesdroppings: PGW takes a little dig at himself by having his hero, Ashe Marson, who earns his living by writing penny-dreadful crime stories, confess that all his own plots hang on such unlikely events. The other feature that deserves mention is the great detail with which PGW describes life below stairs. Fans of 'Upstairs, Downstairs' and 'Downton Abbey' would enjoy reading the book for that alone.