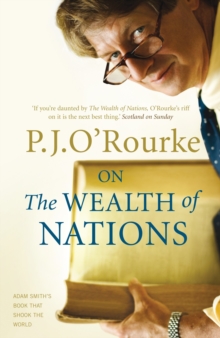 On the Wealth of Nations : A Book That Shook the World
Paperback
Description
Adam Smith's The Wealth of Nations was first published in 1776 and almost instantly was recognized as fundamental to an understanding of economics.
It was also recognized as being really long and as P.
J. O'Rourke points out, to understand The Wealth of Nations, the cornerstone of free-market thinking and a book that shapes the world to this day, you also need to peruse Smith's earlier doorstopper, The Theory of Moral Sentiments.
But now you don't have to read either, because P. J. has done it for you. In this hilarious work P. J. shows us why Smith is still relevant, why what seems obvious now was once revolutionary, and how the division of labour, freedom of trade and pursuit of self-interest espoused by Smith are not only vital to the welfare of mankind, they're funny too.
He goes on to establish that far from being an avatar of capitalism, Smith was actually a moralist of liberty.
As P. J. says, 'It's as if Smith, having proved that we can all have more money, then went on to prove that money doesn't buy happiness. And it doesn't. It rents it.'
Information
Format: Paperback
Pages: 256 pages
Publisher: Atlantic Books
Publication Date: 01/03/2008
Category: Economic theory & philosophy
ISBN: 9781843543893
Free Home Delivery
on all orders
Pick up orders
from local bookshops
Reviews
Showing 1 - 1 of 1 reviews.
Review by ElectricRay
16/06/2015
P J O'Rourke - he of Republican Party Reptile - is a gifted, witty and acerbic writer but one whose views, even when on his mettle, one should take wth a pinch of salt: more useful as an antidote to loony-tunes leftie thinking than as a properly constructive conservative alternative. As with all politically committed writers, left or right, his core analysis tends to be glib: the brushstrokes with which he paints the world are vigorous but, like many paintings that look good at a distance, they don't always bear close examination. Expounding on Adam Smith's classic The Wealth of Nations, then, O'Rourke both is and isn't on home turf. *Is* in that, superficially, Smith is the godfather of O'Rourke's libertarian, optimistic, Republican brand of economics in observing that the natural opposition of interests of buyers and sellers is a functional tension such that folks left to their own devices will, quite without meaning to, generally act is a way which is constructive and efficient in its allocation of resources. *Isn't* in that O'Rourke is a journalist and a polemicist not an economist, much less a moral philosopher (though to give him credit he makes no bones whatever about that) and Smith's 900 page tome is a far more nuanced volume than its hackneyed headline about the invisible hand - which is all most of us know about it: hence O'Rourke's book - suggests. To his credit, also, O'Rourke has also spent time assimlating Smith's companion (and much less well known) volume A Theory of Moral Sentiments, and does some good work to contextualise Wealth of Nations by reference to it. All the same, O'Rourke's simplistic economic viewpoint - and sardonic air - remain untroubled by Smith's nuance, and at times this entry drifts closer to representing O'Rourke's own theory of the Wealth of Nations rather than considering Smith's. Most readers will have far less interest in that, no matter how funny it might be, particularly as O'Rourke has had a go at that book already, a decade ago, in Eat the Rich: A Treatise on Economics, and more particularly because on this outing O'Rourke's wit isn't as sharp, nor his insight as valuable, as it can be. In any case you can be sure that P J O'Rourke wouldn't need 900 pages to expound his theory. You could write it on a cocktail napkin (Eat The Rich notwithstanding), and for all his praise of Adam Smith's pragmatism in the face of ideologically driven idealism (anachronistic though it may be, at the time of publication the dread socialism being still a good century and more hence) O'Rourke's laissez-faire view of the world is as idealistic as any, supposing as it does perfectly rational actors, a complete absence of government, ubiquity of perfect information and an omnipresent infinity of buyers and sellers, and (as we can now say in November 2008 with 20:20 hindsight) just as flawed: there are, we know know, times where even perfectly rational actors simply won't act and in these times the invisible hand without so much as a by-your-leave vanishes altogether and the only credible mechanic left to deal with the black swans carousing about is good old nanny state. And Warren Buffett. This is by no means a bad book, and for those interested in a *somewhat* deeper reading of The Wealth Of Nations, more pleasant than the one that can be had by actually reading it, step forward - but bring that salt cellar. For this P J O'Rourke book more than any, you'll be needing it.
Also in the Books That Shook the World series | View all