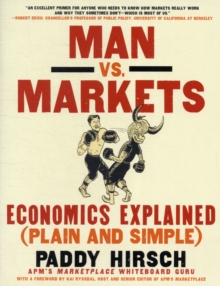 Man vs. Markets : Economics Explained (Plain and Simple)
Paperback / softback
Description
After years of media coverage, do we really understand the financial engineering that brought the global economy to the brink?
The lexicon of the markets is laden with terms and acronyms like leverage, securitization, MBS, CDS, and CDO.
How can the average person crack the code? Veteran journalist, senior producer at NPR's Marketplace, and Whiteboard Guru.
Paddy Hirsch proves it's not impossible to understand what goes on in the glass and steel canyons of Wall Street.
In "Man vs. Markets", he shows how most international financial transactions are the same as those taking place in stores, car dealerships, and even playgrounds on Main Street.
Bonds? They're basically just loans. Futures? You probably used one when you ordered your Thanksgiving turkey last year.
Options? Ever bought a fully transferable, returnable airline ticket?
It's pretty much the same thing. Using the humor and the knowledge of everyday experiences, Hirsch offers accessible explanations, anecdotes, and analogies of the instruments that power our financial system and that very nearly caused its demise. "Man vs. Markets" breaks down what, exactly, makes the markets tick and empowers readers, whether they are contemplating an investment, arguing for reform, or simply trying to understand events making news.
Information
Format: Paperback / softback
Pages: 224 pages
Publisher: HarperCollins Publishers Inc
Publication Date: 01/09/2012
Category: Economics
ISBN: 9780062196651
Free Home Delivery
on all orders
Pick up orders
from local bookshops