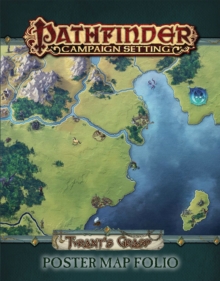 Pathfinder Campaign Setting: Tyrant's Grasp Poster Map Folio
Game
Description
Lands the Dead Seek toClaim!Explore lands of valor and mystery withthe Tyrant's Grasp Poster Map Folio.
Pore over masterful cartography and planexciting adventures with these three massive poster maps designed for use withthe Tyrant's Grasp Adventure Path but useful for explorations across theworld. These huge, lavishly illustrated postermaps depict key locations and nations in the Tyrant's Grasp Adventure Path.
Thefirst map details the walled crusader city of Vigil, which has stood against thetyranny of evil for generations.
The second map presents the nation of Xopatl, aland of wonders on the distant continent of Arcadia.
The third is a beautifullyillustrated map of the besieged nation ofLastwall. Whether you're looking for a fortifiedcity, lands of intrigue a half a world away, or a nation for crusading knights,these beautiful maps are the perfect resource for the Tyrant's Grasp AdventurePath or any fantasy campaign.
Information
Format: Game
Pages: 0 pages
Publisher: Paizo Publishing, LLC
Publication Date: 18/06/2019
Category: Indoor games
ISBN: 9781640781351
Free Home Delivery
on all orders
Pick up orders
from local bookshops