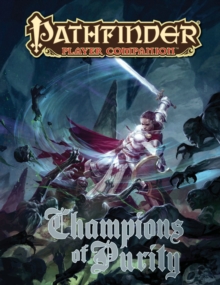 Pathfinder Player Companion: Champions of Purity
Paperback / softback
Description
Greatest Good!You don't have to be a holy warrior to be a truehero.
Join in the fight against evil and be a paragon of righteousness as acharacter of any class with Pathfinder Player Companion: Champions ofPurity.
Arm yourself with a host of new options specifically designed forgood-aligned characters-like new fighting techniques striking the balancebetween capture and execution, life-fostering magic, rules for the redemption ofevil characters, and morally challenging alignment-changing alchemy.
With newinsights into what it means to play good-aligned hardliners and how to get paidfor being a good guy, deal with evil companions, redeem villains, and handle allthose goblin babies, this book will change the way you think about playinghonorable characters.
Also, learn more about some of the greatest do-gooders andvirtuous organizations on Golarion-with a focus on nonreligious groups, sincethe fight between good and evil doesn't have to unfold entirely in the arena offaith.
Join the ranks of the just with Pathfinder Player Companion: Championsof Purity! Inside this book, you'll find: Detaileddiscussion on what it means to play a character of each of the three goodalignments, including ideas for character generation and specific challenges ofthese alignments. A look into good-aligned races, good-alignedhomelands, and good-aligned organizations for your character, as well as some ofthe challenges of being good and what happens when good characters come from badplaces. A method for redeeming evil characters who youradventuring party encounters during the campaign. New good-basedfeats, magical weapons and gear, rage powers, rogue talents, subdomains, andmore!This Pathfinder Player Companion is intended for use with thePathfinder Roleplaying Game, but can easily be incorporated into any fantasyworld.
Information
Format: Paperback / softback
Pages: 32 pages
Publisher: Paizo Publishing, LLC
Publication Date: 14/05/2013
Category: Indoor games
ISBN: 9781601255112
Free Home Delivery
on all orders
Pick up orders
from local bookshops