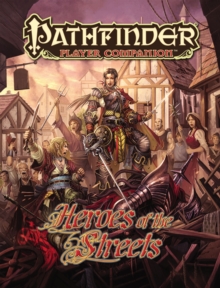 Pathfinder Player Companion: Heroes of the Streets
Paperback / softback
Description
From the well-traveled avenues of Absalom to the outcast city of Kaer Maga,the streets of Golarion are full of danger, intrigue, and, of course,adventurers!
Learn the laws of the street, work your way into a thieves'guild, and gain the support of the masses with Pathfinder Player Companion:Heroes of the Streets!
Featuring dozens of all-new rules for urbancharacters like feats, spells, magic items, and more, Heroes of theStreets contains everything Pathfinder RPG players need to make theircharacters masters of vast markets, back alleys, and everywhere the city takesthem.
Information
Format: Paperback / softback
Pages: 32 pages
Publisher: Paizo Publishing, LLC
Publication Date: 13/10/2015
Category: Indoor games
ISBN: 9781601257697