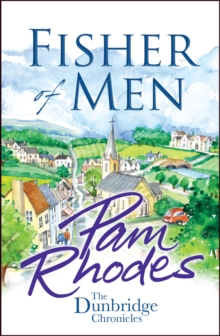 Description
Neil Fisher's first trip to Dunbridge was not a success.
Having inadvertently locked himself in St Stephen's Church for hours (and succumbing to the communion wine and wafers for dinner) it seemed miraculous they gave him the curate's job! On arrival in the small town of Dunbridge it quickly becomes clear that life is not going to be tranquil for the eligible new bachelor, as four formidable women are determined to make their presence felt. There is his mother, Iris, still questioning his choice of career; his rector, the no-nonsense Margaret, who is not one for taking prisoners; Claire, his new neighbour, whom he's already managed to offend. And then there is Wendy, the beautiful leading light of the church music group, who has her own plans for Neil...It can only end in trouble.
Information
Format: Paperback
Pages: 256 pages
Publisher: Lion Hudson Plc
Publication Date: 14/03/2013
Category: Religious & spiritual fiction
ISBN: 9781782640004
Free Home Delivery
on all orders
Pick up orders
from local bookshops
Reviews
Showing 1 - 5 of 8 reviews.
Previous | Next
Review by rphalliburton
16/06/2015
This book is an inspiration to anyone who needs encouragement about their faith. It is the story of Neil Fisher and his first assignment as curate in the parish of St. Stephens.It tells of his maturing, finding his place, solidifying his belief in his chosen vocation. He also finds deep friendships and love.The book ends without telling you which person he will choose as his wife so we will all have to read the next b ook, Casting The Net. In spite of this suspenseful ending I would definitely recommend it.
Review by Maydacat
16/06/2015
This engaging tale will charm and delight you. New curate Neil Fisher is sure of his calling but uncomfortable speaking in front of people. Meeting all the people of his new parish is a challenge, but he soon comes to know and love them. Perhaps a little too well. While one member of his flock sets her cap for him, Neil finds himself drawn to another member of the community. Author Pam Rhodes does a wonderful job in creating believable and likable characters and placing them in a marvelous village setting. With humor as well as pathos, she weaves together the lives of these people as they cope with serious problems along with the joys of life. This novel will appeal to nearly everyone, but especially to those who are privy to the inner workings of a church. This story will leave you eager for the next installment in the series.
Review by njstitcher
16/06/2015
Overall, I enjoyed this book. I thought in the beginning Neil Fisher was a bit of a goody goody, but as the book progressed, and less than happy things began to happen, he began to be more real. The way the situation was handled with the lady who was put in the home touched a chord having just been through that agonizing decision. But the cliff hanger ending was really frustrating! Now I'll have to look for the next book to come out.
Review by LadyoftheLodge
16/06/2015
This book was a well-written saga of a new curate, the ups and downs of his life in Dunbridge. The characters are carefully drawn and will remind you of people you know--they are present in every village and church community! Neil's growth into his role at St. Stephen's is comically depicted. The plot moves along at a good pace, without being plodding or predictable. Watch out for the cliff-hanger ending! I am looking forward to reading more about Neil.
Review by Godsgirl
16/06/2015
This was a very sweet book and a little predictable. I really liked the references to how people individually grew in their faith. Made me stop and ponder even though I have been a Christian all my life. I will be sharing this book with friends now. The only tricky part was that it was written by someone from England and some of the expressions were new to me. Very cute though!
Also in the The Dunbridge Chronicles series | View all