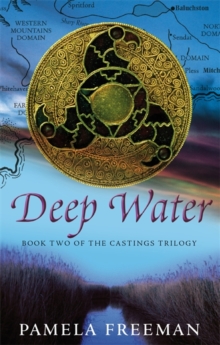 Description
As unrest stirs across the Eleven domains, subversive questions lead to unexpected answers. And ghosts of the dead walk in increasing numbers - for those few that can see. In a land where stonecasters foretell destinies for a fee and gods talk to those who can listen, the future is uncertain and is built on a bloodsoaked past.So what did happen one thousand years ago, when Acton's people came across the mountains?
Was Acton himself a hero and liberator, or a bloodthirsty invader and scourge of the travelling people?
Wild magic gives Bramble some dangerous insights into a land's disturbed history. And why did Ash's Traveller father not teach him the secret songs of his people?
The ultimate answers to all these questions are hidden in time, where perhaps they should stay.
Information
Format: Paperback
Pages: 496 pages
Publisher: Little, Brown Book Group
Publication Date: 02/10/2008
Category: Fantasy
ISBN: 9781841497020
Free Home Delivery
on all orders
Pick up orders
from local bookshops
Reviews
Showing 1 - 1 of 1 reviews.
Review by shawjonathan
16/06/2015
This has tremendous confidence, even conviction. My impression is that the conventions of the genre are being put to very complex use. Sue Bursztynski recently wrote on her blog, 'I'm not crazy about most fantasy being published these days. I loathe the multi-volume sagas in which the long-lost heir or the Chosen One is chased by the minions of the Dark Lord.' Well, in this trilogy there are a number of characters who think of themselves as The Chosen One, and a number of contenders for the Dark Lord position, all of whom have our sympathy to some degree. As for the minions, quite a few of them get to tell their own stories in short, one-off chapters, and so -- I guess -- they cease to be just minions. And while I know vengeful undead are just vengeful undead, not a symbol of something, the vengeful undead of the definitely northern hemisphere Domains, with their history of genocide and dispossession, resonate wonderfully with the Australian zeitgeist; in part of the beautifully integrated flashback history, one invader actually says, 'Can't you see the opportunity we have here? This country is empty.' Impending climate change -- a mini ice age? -- likewise resonates with our preoccupations out here in the real world. The main pleasure of the book, though, lies not in spotting such resonances, but in inhabiting the richly realised world of the book. Scenes between some women characters and the unnamed god who inhabits the ritual fire are as intensely erotic as any I've read, while remaining remarkably chaste.My impression is that the middle volume of a trilogy is often a bit flat: we know the characters and the world so there's little thrill of discovery, but we don't reach the major climax, so there's no thrill of resolution. I'm happy to report that Deep Water doesn't run flat. Each of the four or five narrative threads reaches a satisfying moment of poise, and it looks as if all hell is about to be unleashed when the third volume materialises next year.
Also in the Castings Trilogy series