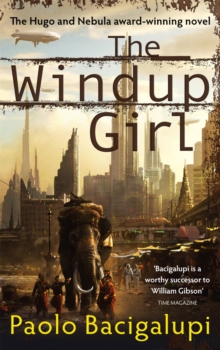 The Windup Girl
Paperback
Description
Anderson Lake is a company man, AgriGen's calorie representative in Thailand.
Under cover as a factory manager, he combs Bangkok's street markets in search of foodstuffs long thought to be extinct.
There he meets the windup girl - the beautiful and enigmatic Emiko - now abandoned to the slums.
She is one of the New People, bred to suit the whims of the rich.
Engineered as slaves, soldiers and toys, they are the new underclass in a chilling near future where oil has run out, calorie companies dominate nations and bio-engineered plagues run rampant across the globe. And as Lake becomes increasingly obsessed with Emiko, conspiracies breed in the heat and political tensions threaten to spiral out of control.
Businessmen and ministry officials, wealthy foreigners and landless refugees all have their own agendas.
But no one anticipates the devastating influence of the Windup Girl.
Information
Format: Paperback
Pages: 544 pages
Publisher: Little, Brown Book Group
Publication Date: 01/12/2010
Category: Science fiction
ISBN: 9780356500539
Free Home Delivery
on all orders
Pick up orders
from local bookshops
Reviews
Showing 1 - 5 of 9 reviews.
Previous | Next
Review by Rynooo
16/06/2015
Some awesome speculative sci-fi here. I found it a little dry at first, and some of the prose is a tad repetitive, but once the action kicks off it's a rollercoaster ride. Bacigalupi's dystopian Thailand is vivid and plausible, providing a compelling backdrop.There are plenty of ideas in there and, perhaps mercifully, many of the sub-plots are minor asides from the main thread. The book leaves plenty of loose ends, intentionally I suspect. I keenly await the sequel...
Review by dandelionroots
16/06/2015
An undercover calorie man attempts to garner knowledge of Thailand's seed bank since they are one of the last countries resisting the sterile seeds (and only food source) forced upon the world by his employer, a large agricultural company (read Monsanto). HIs cover is blown, so he resorts to manipulating the local political machine - the Trade vs the Environmental ministries - into an open rebellion. Different aspects of this not too distant future society where genetic manipulation is common are viewed through a chinese refuge, an impoverished young thai girl, various levels of corrupt officials (one white knight), and a new person (or wind-up) who is in the country illegally. The story was poignant and strange, and the ending (and hope for humanity) was perfect. Is it still considered evolution if it's directly helped along by man?
Review by drachenbraut23
16/06/2015
Set in the 23rd Century, after major environmental disaster all over the world, the story unfolds in Thailand. Calorie companies control the food production through "genehacked seeds" and try through private armies and bioterrorism to rule the world market. Power Resources have run out, and bioengineered mammoths and humans are used for manual labor to produce electricity. Hand-cranked radios and windup lanterns are used as alternatives and everything is recycled. Actually, I thought the concept of the story with people still struggling to survive and to adapt to the new rules of the world is great Sci-fi stuff, but Bacigalupi did not quite fulfill my expectations.However, I found it hard at first to get engaged with this story. The story is told from the viewpoint of four different characters. First we have Anderson Lake, a calorie man "Farang", who comes to Bangkok undercover to find the secret location of the Thai seed bank and to discover new blight-resisting food. Second we have Emiko a bioengineered genetically modified human "Windup Girl", fashioned by the Japanese to function as Geisha and pleasure girl - she gets abandoned in Bangkok and ends up in a Thai brothel. The focus on her story lies in her being constantly sexually victimized, until she snaps. How her genetically altered genes make it almost impossible for her to survive the Thai heat and how her doglike genes make her subservient to anyone who commands her. Third we have Tan Hock Seng an aging Chinese "Yellow Card" who tries to find a way back again into his former secure life style. Last and fourth we have Jaidee an environmental officer "White Shirt" of the ministry, who is also a revolutionary, trying to free his country from the grip of the foreigners.This all sounds so exciting, and it should have been brilliant, but unfortunately that was not the case. Too many plots and sub plots, sometimes crossing each other, but never reaching their full potential. The first ½ of the book was quite dragging, but eventually the story picked up to a more engaging pace, although I did not care for the brutal and victimizing rape scenes done to Emiko.
Review by dmsteyn
16/06/2015
The Windup Girl is an excellent science-fictional account of a near-future Bangkok in which terrible plagues and food- and energy-shortages have ravished the earth, with only a few pockets of humanity left. The Kingdom of Thailand is one of these last outposts, where thanks to a precious seed-bank (and other factors) people have clung to a hard-scrabble existence. Bacigalupi has made some terrifying extrapolations from present circumstances, though the novel is more than a cautionary tale. There are also fascinating insights into Thai culture, specifically Buddhist practices, and how these impact on a future circumscribed by scarcities that we can hardly imagine.The "Windup Girl" of the title is Emiko, one of the "New People". She is a genetically-engineered being, specifically created by the Japanese to cater to the needs of a nation with falling birth-rates and an old population. After her master abandons her in Thailand, Emiko must struggle to survive in the slums of Bangkok. She has not been engineered to survive in the tropical heat, but she does possess certain qualities that will play a crucial role in Bacigalupi's plot. She later also meets up with Anderson Lake, the other main protagonist of the novel. Lake is what is called, rather derisively, a "calorie man": he works undercover for a firm that is hell-bent on gaining access to the above-mentioned seed-bank of the Thais. Lake sets up a factory as a front which he uses to establish a presence in Bangkok, while trying to gain a foothold amid the political tensions in the Kingdom.These political tensions form the backbone to much of the story, with the Trade and Environment Ministries battling to gain the upper hand, all the while kowtowing to the Palace and its titular Child Queen (who may or may not actually still be alive). There is a fascinating amount of detail on Thai society, although it is obviously embellished and altered somewhat to reflect the near-future setting. I particularly enjoyed the way in which Bacigalupi handled his characters' more metaphysical questions concerning religion and the nature of humanity. Are the "New People" also human beings? Do they have souls? These questions end up playing a huge part in the novel, as do questions of responsibility and culpability. There is, for instance, a Chinese character who managed to escape Malaysia before a fundamental Muslim uprising led to the deaths of most of his family. He now works for Lake, but knowing his precarious situation as a so-called "yellow card", he must plan to escape Thailand in case he is again caught up in political intrigue. When problems arise in the factory, he must decide whether to betray the workers and run for it, or try to save at least some of them.This is not your typical science fiction, with spaceships and alien encounters (not that there is necessarily anything wrong with that type of science fiction). Rather, Bacigalupi describes it as "the stuff you see with Aldous Huxley or George Orwell, where you're extrapolating about who are we, where are we going, what our society looks like…" Bacigalupi goes on to say that he feels a special connection to this type of science fiction, and I can only say, so do I. The book is not perfect; there are a few too many protagonists, and the bad guys can be a bit overly evil (though Bacigalupi does address this at the end to a degree). On the whole, however, this is an excellent addition to the science-fiction corpus, and worthy of the accolades it has garnered.
Review by AHS-Wolfy
16/06/2015
What happens when fossil fuels have been exhausted and bio-engineering has led to plagues ravaging the globe after global warming has become a reality instead of just the fear hanging over our own time? While calorie companies try to control the world's staple foods and keep up with the constantly mutating diseases that threaten to engulf everyone, they are constantly searching for new seed-banks to supplement their own stocks. One such seed-bank is located in the Kingdom of Thailand and this has managed to keep them from under the sway of the company men that desperately want in. The story is set during a time of political unrest in the Kingdom, almost all the officials are corrupt and the two main parties are at odds. The Ministry of the Environment and the Ministry of Trade want to head off in different directions and the company men see this as an opportunity for a way in.Meanwhile, the titular Windup Girl, a genetically engineered servile creature, has been abandoned by her former master and is suffering every degradation known to man (and woman) in a pleasure house as a novelty attraction. If the wrong people find her then she will be destroyed but circumstances come to a head for her personally and the country as a whole when her previously unknown self-preservation programming is triggered after a particularly brutal night she spends in the company of an important political figure.The world building is excellent for the microcosm of the setting. Characters are all well fleshed out and believable in their actions, no-one is truly good but all follow their own motivations for what they do. After a slightly slow start the action really hots up and I felt compelled to keep reading and fairly rushed through this book and devoured its content. I will certainly look forward to reading more from this author.