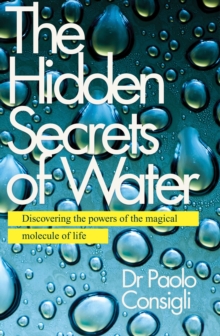 Hidden Secret of Water
Paperback / softback
Description
'Human beings are inexorably drawn to water because...it reveals both the origins and purpose of our lives.
In short, water determines our beginnings, sustains our present, and holds the key to our future.' Water is the most common, and the most important substance on Earth.
We are hypnotically attracted to its simplicity, purity and transparency, as well as its astonishing physical behaviour, structural vibrations and ordered flow - not to mention the properties of water and its amazing therapeutic virtues.
Through the ages, scientists, philosophers and mystics alike have sought to interpret the fact that our lives are completely dependent on water.
They have drawn parallels with spiritual growth: water is always ready to change, to adapt itself, to create and transform.
By moving beyond a description of its attributes and physical properties, The Hidden Secrets of Water seeks to uncover and understand the true depths of this most enigmatic of elements, taking the reader on a journey of discovery that covers the whole spectrum of water's influence, traversing scientific, social and spiritual planes. From the Ancient Chinese concept of Yin and Yang to numerical and literary symbolism in the Torah, the Fibonacci sequence to string theory, this innovative, intelligent and far-reaching exploration seamlessly brings together modern science and ancient wisdom, technology and humanism, logic and mysticism in a way that will inspire and stimulate all.
Paolo Consigli is a medical doctor, psychologist and practitioner of holistic medicine and acupuncture.
He practises in Milan and has taught at the Medical Association for Chinese Medicine in Europe.
Information
Format: Paperback / softback
Pages: 320 pages
Publisher: Watkins Media
Publication Date: 17/08/2017
Category: Thought & practice
ISBN: 9781786780959
Free Home Delivery
on all orders
Pick up orders
from local bookshops