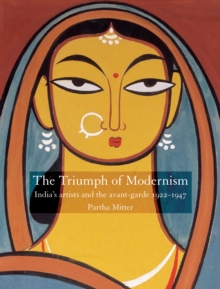 Triumph of Modernism : India's Artists and the Avant-garde 1922-1947
Paperback / softback
Description
This richly illustrated book explores the contested history of art and nationalism in the tumultuous last decades of British rule in India.
Western avant-garde art inspired a powerful weapon of resistance among India's artists in their struggle against colonial repression, and it is this complex interplay of Western modernism and Indian nationalism that is the core of this book. "The Triumph of Modernism" takes the surprisingly unremarked Bauhaus exhibition in Calcutta in 1922 as marking the arrival of European modernism in India.
In four broad sections Partha Mitter examines the decline of oriental art and the rise of naturalism as well as that of modernism in the 1920s, and the relationship between primitivism and modernism in Indian art: with Mahatma Gandhi inspiring the Indian elite to discover the peasant, the people of the soil became portrayed by artists as noble savages.
A distinct feminine voice also evolved through the rise of female artists.
Finally, the author probes the ambivalent relationship between Indian nationalism and imperial patronage of the arts. With a fascinating array of art works, few of which have either been seen or published in the West, "The Triumph of Modernism" throws much light on a previously neglected strand of modern art and introduces the work of artists who are little known in Europe or America.
A book that challenges the dominance of Western modernism, it will be illuminating not just to students and scholars of modernism and Indian art, but to a wide international audience that admires India's culture and history.
Information
Format: Paperback / softback
Pages: 256 pages
Publisher: Reaktion Books
Publication Date: 01/04/2007
Category: Art of indigenous peoples
ISBN: 9781861893185
Free Home Delivery
on all orders
Pick up orders
from local bookshops
Also by Partha Mitter