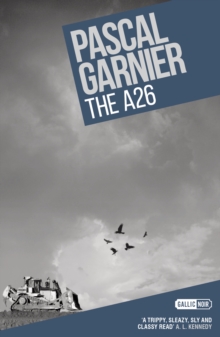 Description
The future is on its way to Picardy with the construction of a huge motorway.
But nearby is a house where nothing has changed since 1945.
Traumatised by events that year, Yolande hasn't left her home since. And life has not been kinder to Bernard, her brother, who is now in the final months of a terminal illness.
Realizing that he has so little time left, Bernard's gloom suddenly lifts.
With no longer anything to lose, he becomes reckless - and murderous -
Information
Format: Paperback
Publisher: Gallic Books
Publication Date: 16/01/2013
ISBN: 9781908313164
Free Home Delivery
on all orders
Pick up orders
from local bookshops
Reviews
Showing 1 - 2 of 2 reviews.
Review by jon1lambert
16/06/2015
I quite like books which have numbers for titles or in this case road numbers. It is a short book, less than one hundred pages.In parts it is pretty gruesome. Somehow it didn't quite do it for me - the characters were not really believable, they couldn't have been in that house all that time, and there was no real atmosphere. Guilt and revenge are dominant and inevitably World War II.
Review by BrandieC
27/01/2016
I'm very grateful to Gallic Books for introducing me to the works of Pascal Garnier. The A26 is my second Garnier book, following The Panda Theory, and as was the case in The Panda Theory, the lives of the main characters in The A26, Yolande and Bernard, are dark and haunted by the past.The publisher's description of this book led me to expect Bernard to be the driving force of the story, yet it is actually Yolande who serves as its brooding center. She is a paranoid agoraphobe who has never recovered from her experiences in World War II(view spoiler). Those experiences circumscribe, and ultimately define, the siblings' lives for decades, until Bernard's terminal illness irrevocably alters their relationship, both with each other and with the outside world.The A26 was translated by Melanie Florence, and I found her use of British slang (e.g., bugger off, pinny, biro) jarring in a book set in France. I don't recall having the same problem while reading The Panda Theory, which was translated by Svein Clouston. Next up on my Garnier TBR pile is Boxes, also translated by Florence, so I will soon see whether this continues to be an issue.I received a free copy of The A26 through NetGalley in exchange for an honest review.