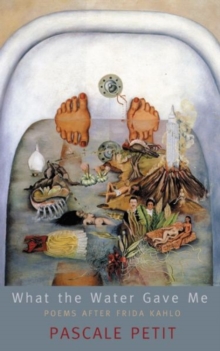 What the Water Gave Me : Poems After Frida Kahlo
Paperback
Information
Format: Paperback
Pages: 64 pages
Publisher: Poetry Wales Press
Publication Date: 28/04/2010
Category: Poetry by individual poets
ISBN: 9781854115157
Free Home Delivery
on all orders
Pick up orders
from local bookshops
Reviews
Showing 1 - 2 of 2 reviews.
Review by BlackSheepDances
16/06/2015
Poems after Frida KahloFrida Kahlo is well known as a surrealistic "folk artist," and her Mexican heritage is evident in her works. She's also known for her stormy marriage to fellow artist Diego Rivero. However, very little is known about her personal life beyond those details and a rather infamous unibrow. When I received the poetry collection What the Water Gave Me by Pascale Petit, I was fascinated by what the poet achieved: a biography of Kahlo through verse. The combination of historical details and poetry in this collection is unique, and when I was able to look up some of the Kahlo's work online, it was especially fascinating. Each poem is related to a piece of Kahlo's art, some having the same title. The poet imagines what Kahlo was thinking as she painted, and put those imagined thoughts into verse. Petit didn't simply guess, however, she did meticulous research and even spoke to some of Kahlo's acquaintances. As an artist herself, she was able to note visual clues in the paintings that would illuminate Kahlo's mental state and attitudes.An important element is the accident Kahlo was in as a teenager: her spinal column, pelvis, collarbone, and several ribs were broken. An iron handrail also crashed through her abdomen and uterus. From this accident, and from her prior illness with polio, a lifetime of pain was a certainty. Many times she was bedfast for months at a time, and her frequent miscarriages were devastating. Her pain translated into her art, few of which appear happy or jubilant. In Kettenman's 1955 biography of Kahlo, she is quoted as saying ""I paint myself because I am so often alone and because I am the subject I know best." More than half her paintings were self-portraits.One of Kahlo's most well-known works is "The Suicide of Dorothy Hale", which she was commissioned to paint by a friend of Hale's. Hale had jumped from a skyscraper, and Kahlo rendered the descent as if the clouds were slowing her fall, so her scene in death is almost like slumber. Petit went one step further in the poem, concluding it with Kahlo's imagined thoughts:"And I'm desolate as you wereThat violet morningWhen the window spoke its glass vowelsThat drew you to the balcony."Petit's interpretation of her biographical knowledge combined with the artistic clues make a powerful statement. The title of the book refers to a piece Kahlo completed, and it represents a woman in a bathtub with elements of her life symbolically played out in the water. The verses combine Kahlo's art with the reality of this image (Kahlo took frequent baths to soothe her back pain as Petit notes) to imagine the emotional and physical pain Kahlo felt being a spectator for much of her life.
Review by SamSearle
16/06/2015
Startling imagery. You can tell that Petit has a knack for the visual arts as well as for language.