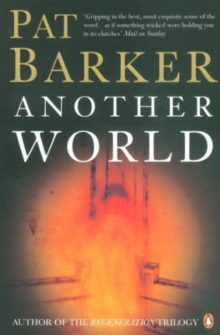 Description
In Pat Barker's Another World, the First World War casts its shadow down the generations. At 101 years old, Geordie, a proud Somme veteran, lingers painfully through the days before his death.
His grandson Nick is anguished to see this once-resilient man haunted by the ghosts of the trenches and the horror surrounding his brother's death.
But in Nick's family home the dark pressures of the past also encroach on the present.
As he and his wife Fran try to unite their uneasy family of step- and half-siblings, the discovery of a sinister Victorian drawing reveals the murderous history of their house and casts a violent shadow on their lives ...'Gripping in the best, most exquisite sense of the word - as if something wicked were holding you in its clutches' Mail on Sunday 'Brilliant ...without question the best novel I have read this year ...once again, World War I extends its dark shadows across Pat Barker's extraordinary writing' Val Hennessy, Daily Mail 'One of the best things she has ever done' Ruth Rendell 'Utterly compelling ...she is a novelist who probes deep, revealing what people prefer to keep hidden' Allan Massie, Scotsman 'Demonstrates the extraordinary immediacy and vigour of expression we have come to expect from Barker . ..brilliant touches of observation, an unfailing ear for dialogue, a talent for imagery that is darting and brief but unfailingly apt ...this is a novel that doesn't allow you to miss a sentence' Barry Unsworth, The New York Times Book Review 'Intensely feeling ...Geordie is a beautifully realised character, tough, humorous, and finally enigmatic' Helen Dunmore, The Times
Information
Format: Paperback
Pages: 288 pages
Publisher: Penguin Books Ltd
Publication Date: 01/07/1999
ISBN: 9780140258981
Free Home Delivery
on all orders
Pick up orders
from local bookshops
Reviews
Showing 1 - 2 of 2 reviews.
Review by jwhenderson
16/06/2015
Another World by Pat Barker is a novel whose parts do not add up to the sum of the whole. There is no getting there in this novel, for there is nowhere to go. With the past dripping into the present through a ghost and a hidden mural in the family's home the novel has enough of the past to create interest; yet, it does not. The characters are well drawn, but there is no follow through and the reader is left wondering what to make of it all. This was a disappointment for this reader who immensely enjoyed the author's Regeneration Trilogy (Regeneration, The Eye in the Door and The Ghost Road). By all means, read Pat Barker, but start with her earlier trilogy.
Review by sianpr
27/08/2015
This was an unrelenting in your face story with characters that were very difficult to sympathise with. I found the story line very grim, particularly the detailed description of dying of cancer- far too much fact and it was difficult to know the reason why the demise of Geordie, the Somme veteran, had to be so graphic. The 2 narratives in the novel do not cohere into a very satisfying story. The storyline involving Nick's dysfunctional family just disappears in the 2nd part of the book and a lot of loose ends are left dangling. There is some excellent writing here- Pat Barker is a master of sparseness - but this fell well short for me of her other work.