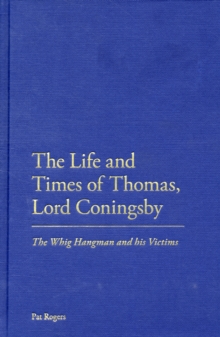 The Life and Times of Thomas, Lord Coningsby : The Whig Hangman and His Victims
Hardback
Description
This book throws fresh light on British and Irish politics at the start of the eighteenth century.
It tells for the first time the story of a powerful and eccentric peer, Thomas Coningsby, who played a key role in Ireland as the kings saviour at the Battle of the Boyne and as one of the top administrators of the Protestant ascendancy.
It describes his tumultuous career in local and national politics in England, along with his hectic familial and private life, marked by his combative behaviour towards neighbours and tenants in Herefordshire, where he feuded with the Harley clan and the Duke of Chandos.
The book describes his bitter quarrels with political rivals and shows how these were enlisted by the greatest poet of the age, Alexander Pope, to form a devastating critique of the Whig revenge against their discredited rivals.
Based on extensive use of unpublished archives, including the numerous cache of letters to and from Coningsby; lawsuits; legal documents such as wills and marriage settlements; as well as newspapers, pamphlets and printed sources.
Information
Format: Hardback
Pages: 294 pages, black & white illustrations
Publisher: Continuum Publishing Corporation
Publication Date: 19/05/2011
Category: British & Irish history
ISBN: 9780826423924
Other Formats
Paperback / softback from £34.85