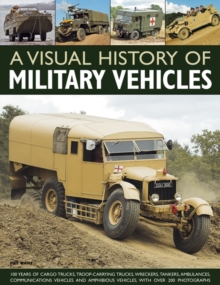 Illustrated History of Military Vehicles
Paperback / softback
Description
This title covers 100 years of cargo trucks, troop-carrying trucks, wreckers, tankers, ambulances, communications vehicles and amphibious vehicles, with over 200 photographs.
It covers topics ranging from the first basic trucks produced before and during World War I, through the technical advances made during the inter-war years, to the rapid development of specialized vehicles in World War II and beyond.
It includes motor lorries, artillery tractors, tank transporters, recovery vehicles, Jeeps, half-tracked vehicles, air-portable vehicles, reconnaissance vehicles, cargo vehicles, medical vehicles, communications vehicles, missile transporters, bridging vehicles and amphibious vehicles.
It features over 200 photographs from museums, libraries and other historical sources showing the vehicles in action and in service, and restored vehicles photographed by leading military vehicle photographers.
Military vehicles are vital for the fighting capability of any mechanized army.
This fully illustrated reference book provides an authoritative overview of the fascinating history of these essential vehicles. It begins with the first motorized cars, lorries and trucks that enabled a reduction in the amount of horse transport used, then covers specialized vehicles, including powerful artillery tractors, missile transporter-erector-launchers, tank transporters, bridging vehicles and amphibious vehicles.
With its wealth of 200 archive and museum photographs, the book is a rich guide to this fascinating subject, suitable for enthusiasts, historians and model makers.
Information
Format: Paperback / softback
Pages: 96 pages, over 200 photographs
Publisher: Anness Publishing
Publication Date: 26/10/2012
Category: Military history
ISBN: 9781780191935