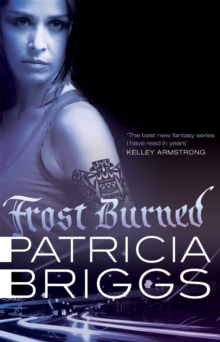 Description
Mercy Thompson's life has undergone a seismic change.
Since becoming the mate of Alpha werewolf Adam and stepmother to his daughter Jesse, her life finally seems to be calming down.
But after an accident in bumper-to-bumper traffic, Mercy suddenly can't reach Adam or the rest of the pack.
All she knows is that Adam is angry and in pain.With the werewolves fighting a political battle to gain acceptance from the public, Mercy fears Adam's disappearance may be related - and that the pack is in serious danger.
Outclassed and on her own, Mercy may be forced to seek assistance from any ally she can get, no matter how unlikely.
Information
Format: Paperback
Pages: 368 pages
Publisher: Little, Brown Book Group
Publication Date: 01/03/2013
Category: Fantasy
ISBN: 9781841497983
Free Home Delivery
on all orders
Pick up orders
from local bookshops
Reviews
Showing 1 - 5 of 8 reviews.
Previous | Next
Review by HereWithoutYou
16/06/2015
This is definitely one of my all-time favorite paranormal series.<br/><br/>I just love Mercy as she is a seriously kick-ass heroine that doesn't shy back from dangerous situations. She is someone who will always help her family &amp; friends and that not always without fear but without whining. And that's why she rocks so damn much, she is a stark contrast to all those whiny little girls who get on my nerves if I read too much about them. But give me a heroine like Mercy and I honestly can't get enough of her.<br/><br/>Like always I like the dynamics of the series – no matter the focus point: Mercy &amp; Adam, Adam &amp; his pack or Mercy &amp; the Vampire Mistress. Patricia Briggs has a great way of engaging her characters in witty dialogue and it never gets boring.<br/><br/>The plot, dang. I can never completely guess the plot of this series – there are countless twists and surprises and just when you think: "YES; I figured it out!!" something else comes along. There's never a dull moment and that often makes me hurry through the book (even though I always tell myself to read slower, so that it'll last longer). <br/><br/>I can't wait for the next book and more of Mercy, Adam and their pack!!
Review by Capnrandm
16/06/2015
It will come as no surprise at this point to mention that reading FROST BURNED made me nostalgic about previous books in the Mercy Thompson series. Part of that is just loving these characters and being reminded of their "greatest hits", but on top that was how much of FROST BURNED centers around Mercy. I felt like this book had very strong ties to MOON CALLED, with Mercy ducking and weaving through supernatural politics to save the day, though there was no "injured wolf in a Vanagon", FROST BURNED had just as much practical emergency response as that first, awesome book so long ago. And I love it, obviously.
Review by mlsimmons
16/06/2015
In this book, we get to see all the characters we've been missing for a while. While Zee and Stefan, make a small appearance, we see more of Kyle and Tad. We also learn a lot more about Tad and what it means for him to be half fae. We also learn more about Mercy's coyote side. Adam is still a little overbearing for my liking, and Mercy's too, I think. I would like him to start to see, that while he really wants to protect her, she isn't a person to stand around and wait for someone else to save her friends. He wouldn't love her if she just sat on the sidelines or screamed and ran the other way every time there is trouble.<br/><br/>This book isn't without loss. We do lose a very important person to Mercy and her friends. Even if this person was a minor character to the book, this person was very important to the other characters. This character will be missed.
Review by sharrow
16/06/2015
This was not dissimilar to River Marked, in that it's about an established couple and their adventures. I adore Mercy, she works what she's got and Adam is pretty great too. <br/><br/>This was another solid instalment, but perhaps a little formulaic. I wonder if it is time for the series to end? Ride off into the sunset. I'd hate to think the author would put the characters through something hellish just to up the ante in the series. Maybe pick up the threads of one of the other characters. More Warren and Kyle!!!! <br/><br/>In saying this, maybe it's ok for them to just continue having wild adventures. I loved reading it, nearly did it in one sitting. It was great. Just a little unsure where it's heading.
Review by cranberrytarts
16/06/2015
Adam's POV!! Y'all, we got 2 full chapters from ADAM! That would have made it worth reading no matter what, but the story itself is good, too. It was action packed and kept me guessing. For the first time in the series I didn't figure out who the villain was until right before the big reveal. That never happens. <br/><br/>Another great entry in the series. I'm anxious to see where Briggs takes us next. <br/>
Also in the Mercy Thompson series | View all