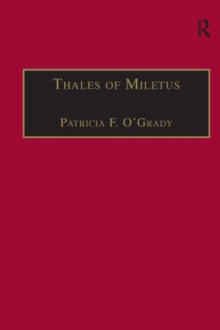 Thales of Miletus : The Beginnings of Western Science and Philosophy
Hardback
Description
'What is the basic building block of the universe?' Thales of Miletus was the first to ask this fundamental, yet to be answered, question in the sixth century B.C. This book offers an in-depth account of the answers he gave and of his adventure into many areas of learning: philosophy, science, mathematics and astronomy.
Thales proved that the events of nature were comprehensible to man and could be explained without the intervention of mythological beings.
Henceforth they became subject to investigation, experiment, questioning and discussion. Presenting for the first time in the English language a comprehensive study of Thales of Miletus, Patricia O'Grady brings Thales out of pre-Socratic shadows into historical illumination and explores why this historical figure has proved to be of lasting significance.
Other Formats
EPUB from £39.59
PDF from £39.59
Paperback / softback from £39.19
Also by Patricia F. O'Grady
Also in the Western Philosophy Series series | View all