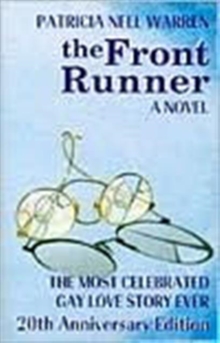 The Front Runner
Paperback
Information
Format: Paperback
Pages: 320 pages
Publisher: Wildcat Press
Publication Date: 12/01/1997
ISBN: 9780964109964
Free Home Delivery
on all orders
Pick up orders
from local bookshops
Reviews
Showing 1 - 5 of 12 reviews.
Previous | Next
Review by severina
16/06/2015
Harlan is a university track coach who tries to deny his sexuality, giving in only on infrequent excursions to NYC for random tricks. Billy is a track star expelled from his previous school for standing up for two other gay students. This is their story... their romance... played out on the backdrop of Harlan training Billy for a shot at the Olympic track team. It's stunning. It was written in 1973, so certain parts can seem dated, but I was simply blown away by it. Billy and Harlan's fight against bigotry and homophobia, esp. within the amateur sports associations, is so eloquently written that I found myself clutching the book in a white-knuckled grip and hunching forward, almost physically pulling for them. I've never before been made so forcefully aware of how far the gay rights movement has come... and how much farther it still has to go. And toward the end... I cried. A novel has never made me cry before. (Reviewed March 2004)
Review by ElTomaso
16/06/2015
A clssic gay fiction novel. This is the prototype for many subsequent works in gay fiction. The Front Runner was a sourse of comfort and hope for me when I first read it in my youth!
Review by narwhaltortellini
16/06/2015
Very big, important, still-important-despite-being-written-years-ago hit gay love story, etc. On that level, very muchly yes I do agree. There's no really denying that. It's just one of those ones that's never going to really be completely out of date, cause there's always going to be people out there treating people like crap because they're idiots. Lucky book. And when I once in a while remind myself when this thing was actually written, my eyebrows fly up and I am once again reminded of the great amount of respect I have for this book.On the like-I-care-about-that-I-just-want-to-read-something-interesting level, the middle was kind of slow for me. But, you know, nothing has a little entertainment value like the undying ability for people to be close-minded jerks. It's not like it's surprising, as some people are still like that today, and this was a while ago. And while I was originally going to go away from this book with a 'Well, that was interesting. And such a book for it's time!' feeling, the ending certainly finished things off with a good hard hit that's going to make me remember it in some very different ways as well.
Review by cestovatela
16/06/2015
It's dangerous writing book reviews based on things you read in high school. It's hard to say how I would feel about the book now, but I found it tremendously moving when I read it the first time. It doesn't have to be a "gay" book even though it's about gay characters - really, it's a story about love, adversity and social ridicule that anyone should be able to relate to.
Review by minxy_ukusa
16/06/2015
This is a fantastic love story which isn't afraid to shock the reader or to turn you on.The tag on the cover says "the most celebrated gay love story ever." The tag should read "the greatest love story ever."