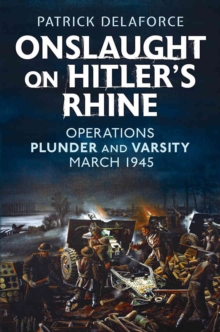 Onslaught on Hitler's Rhine
Hardback
Description
Beginning on the night of 23 March 1945, Operation Plunder was the crossing of the River Rhine at Rees, Wesel, and south of the Lippe River by the British 2nd Army, under Lieutenant-General Miles Dempsey.
At 17:00, 1,300 guns of the 21st Army Group unleashed a terrific bombardment of the east bank of the Rhine.
The bombardment, continuing for four hours and was the largest undertaken by the Royal Artillery during the War.
This was just the first phase of Montgomery's plan to cross Hitler's last obstacle to the attacking forces of the Western Allies-the River Rhine.
The plans were broken into smaller operations, Turnscrew-a diversion ten miles to the north of where the main attack was to take place with the assault elements of the 51st (Highland) Division and 9th Canadian Infantry Brigade; Widgeon-a subordinate operation by 1st Commando Brigade to capture and hold Wesel; and Torchlight-the second major operation for 15th Scottish Division to capture the key area between Bislich and Rees. A fourth-and controversial component with the benefit of hindsight-was Operation Varsity consisting of the British 6th Airborne Division and the US 17th Airborne Division, conducting parachute landings on the east bank in support of the operation.
The American and Canadian forces south and north of Plunder were part of Field Marshal Bernard Montgomery's huge army.
This was part of a coordinated set of Rhine crossings and the race to the Baltic.
Free Home Delivery
on all orders
Pick up orders
from local bookshops