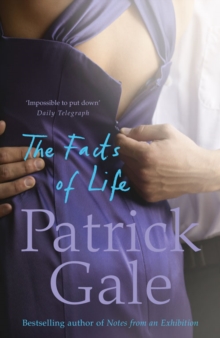 The Facts Of Life
Paperback
Description
A brilliant novel from the author of `Notes from an Exhibition' - that follows three genrations of an unusual family as they confront the harsher facts of modern life. A young composer, Edward Pepper, is exiled from his native Germany by the war, struck down with TB, and left to languish in hospital.
But when he falls in love with his doctor, Sally Banks, his world is transformed.
But despite his new life with Sally, Edward is haunted by memories of his Jewish family, who he was forced to abandon.
When he receives news that his sister has been found alive, it sets in motion a train of events that will test Edward and his family. Years later, Edward watches his grandchildren make their own lives and a few mistakes along the way.
As they struggle to keep the family intact, they are forced to come to terms with some of the tougher facts of life.
Information
Format: Paperback
Pages: 560 pages
Publisher: HarperCollins Publishers
Publication Date: 01/05/2009
ISBN: 9780007307661
Other Formats
EPUB from £6.49
Paperback from £7.69
Free Home Delivery
on all orders
Pick up orders
from local bookshops
Reviews
Showing 1 - 1 of 1 reviews.
Review by jayne_charles
27/08/2015
This is effectively two separate books (and the author himself makes the same point in the notes at the end). The first part, set just after WWII, had me gripped. Edward, a Jew who escaped Nazi Germany, ends up in a TB hospital where he falls in love with his doctor, Sally, who has escaped her working class roots through education and the support of an elderly intellectual spinster. The story of their courtship, and how Edward discovers the fate of the rest of his family back in Germany, and how they find themselves living in a bizarre house-for-women in East Anglia is both gentle and gripping. Consequently it is a shock to be abruptly propelled forty-plus years into the future, into a world of one-night-stands and Smartie-filled condoms. This second part took a while to get into. I missed the familiar old characters, and it was hard to warm to the new ones. I felt something like grief for the years I had hoped would be covered and which were instead skipped wholesale. Gradually, though, I was drawn into the modern story, and its warts and all coverage of the AIDS epidemic. It's no-holds-barred stuff, and one section involving vegetables seems calculated to put even the most committed vegan off his lunch.I felt sure there must be some purpose to having the two sections set in such different times, and the book kept hinting at connections between the holocaust and the AIDS epidemic (to the horror of some of the characters). Maybe that was it, though I feel sure there must be more. I don't think Patrick Gale is capable of writing a bad book, and this is another good read, if the structure was odd. And it's by far the best book I ever read featuring a dodecahedral folly, a statistic that I suspect will endure.