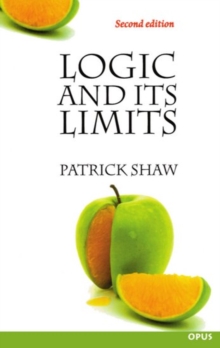 Logic and Its Limits
Paperback / softback
Part of the OPUS series
Description
`This book grew out of the conviction, not in itself strange or startling, that the ordinary person can and should think straight rather than crooked.'Patrick Shaw has written a commonsense introduction to the use of logic in everyday thought and argument.
It explains some of the rules of good argument and some of the ways in which arguments can fail, drawing illustrations from a variety of contemporary and international sources, such as the press, radio, and television.
Symbols and technicalities are kept to a minimum in this thorough and provocative investigation of the rational approach to thought - and its limitations.
Logic and ItsLimits emphasizes the use of logic in helping to settle and clarify disputes.
It will help the reader to avoid bad arguments, to detect them in others, and so to think and argue more effectively.
A wide range of thought-provoking examples and exercises concerned with contemporary social and politicalissues make this a readable and stimulating guide for the student and general reader alike.
Information
Format: Paperback / softback
Pages: 272 pages, diagrams throughout
Publisher: Oxford University Press
Publication Date: 07/08/1997
Category: Philosophy: logic
ISBN: 9780192892805