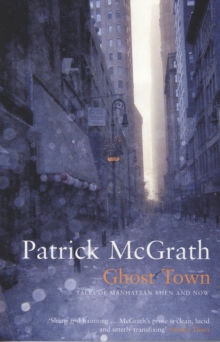 Ghost Town : Tales of Manhattan Then and Now
Paperback
Description
A man is haunted by the memory of his mother with a rope round her neck.
It is the American War of Independence, and having defied the British forces occupying New York she must pay for her revolutionary activities.
But fifty years on, her son harbours a festering guilt for his inadvertent part in her downfall.
In thrusting nineteenth-century New York, a ruthless merchant's sensitive son is denied the love of his life through his father's prejudice against the immigrants flooding into the city - and madness and violence ensue.
In the wake of 9/11, a Manhattan psychiatrist treats a favoured patient reeling from the destruction of the World Trade Center, but fails to detect the damage she herself has sustained.
In this trio of stunning tales from a master storyteller, Patrick McGrath excavates the layers of New York's turbulent history.
Information
Format: Paperback
Pages: 256 pages, map
Publisher: Bloomsbury Publishing PLC
Publication Date: 07/08/2006
ISBN: 9780747583721
Other Formats
Hardback from £8.15
EPUB from £6.64
Free Home Delivery
on all orders
Pick up orders
from local bookshops
Reviews
Showing 1 - 1 of 1 reviews.
Review by pokylittlepuppy
16/06/2015
This is a small one, not sure why it took so long to read. Think I dragged my feet a little.Thing one: these aren't ghost stories. I thought they were kinda gonna be, but it's ok. Ghostly, though. They're foremost historical fiction (a pretty superb ingredient for ghost stories, but oh well), and very enthusiastic ones. Lots of street names, neighborhood. One I used to live in, so well-appreciated. From the earliest story: "Like my mother I am loath to flee the town at the first sign of trouble. It will kill me, of course, New York will kill me ... I will go down, as they say in the grog shops hereabouts, with my <i>vessel!</i> With my <i>ship!</i>"First story: 3.5 stars. Should probably be 3, but this gets the sentimental round-up. Taking place in occupied NYC, 1777, in the old downtown: APPROVED. The details are swift and really great. A whole lot is packed in there and I like it a lot. The eventual story of his mother's secret work and martyrdom is ok if simplistic, and might even be appropriate for young readers, since the child's narration is really innocent. Though it isn't exactly gripping. Still, my favorite creepy detail: the question remaining, how is it exactly that he has his mother's skull in his hands, all these years later? GOOD QUESTION, right? There is clearly something we don't know. Which is really good actually.Second story: 4.5 stars. I am not quite sure what I enjoyed so much but I did. The story is again simple but so vivid. It's like a fable you don't know the ending to. It's set around 1860. This is the longest story, and still feels compact, well-built. I really enjoyed this a lot. "Somewhere in the recesses of his heart a mortal wound was weeping."Third story: 2.5 stars. A weird one. The only contemporary piece. I liked the first half, and thought a clear-eyed psychiatrist was an interesting choice of perspective for a 9/11 story, and the story of her patient and his relationship with an escort affected by the attacks. And the 9/11 of it, really, is good, affecting and detailed, difficult. I was on board.This narrative perspective gets thrown off, though, because she starts to drift. There is an early clue, the story's first line stating that her patient is "like a son", but following with no behavior from her surpassing the professional. Which is weird. And then her behavior <i>does</i> surpass the professional, and I thought, ah, well, no, that's not good. The character seems to change after her visit to the site -- "Until I went to Ground Zero, I had rejected the concept of evil" -- and she quickly turns her judgements on her patient. He's pathologically obsessed, his girlfriend is a sociopath. A Chinese one no less. She fixates on the woman's Americanness.Which is all an interesting kink in the story, but I felt a bit dislodged. I no longer agreed with the narrator, so perhaps I was meant to agree with the prostitute. But these same events make her begin to drift into badness, too, and I wasn't sure what feeling the author was bringing across any more. I think the ending could have been <i>more</i> unsettling, more something, so I knew what to see.A bit of a :-| way to end the book, but really I liked it, and I'll be keeping it.