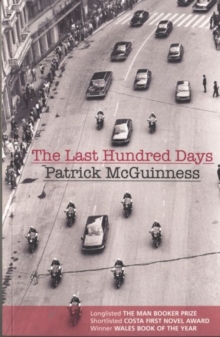 The Last Hundred Days
Paperback
Information
Format: Paperback
Pages: 356 pages
Publisher: Poetry Wales Press
Publication Date: 01/06/2011
ISBN: 9781854115416
Free Home Delivery
on all orders
Pick up orders
from local bookshops
Reviews
Showing 1 - 3 of 3 reviews.
Review by kidzdoc
16/06/2015
Bucharest, 1989. A young British student flies to the Romanian capital to accept a university position that he was not interviewed for, and he does not understand what is expected of him. He is met at the airport by Leo O'Helix a foreign 'professor' who becomes his mentor and closest confidant, although Leo's teaching responsibilities are a cover for illegal activities that make him a wealthy and respected man. Romania is in a state of increasing crisis, as freedom movements are taking place throughout the communist world, while Nicolae Ceau?escu, one of the last Eastern European dictators, seeks to hold onto power by fear and violent suppression. The narrator is introduced to several young underground activists by Leo, and he meets the beautiful Westernized daughter of a powerful minister, with whom he falls in love. He also befriends a retired government official, and helps him to write a secret memoir that is highly critical of the Ceau?escu regime.As the year progresses, the Ceau?escus' hold on power weakens, which leads to increased crackdowns on dissidents and repression of ordinary Romanians. The narrator finds himself in increasing danger, despite his ties to the British embassy and his friends, as the Securitate is aware of his friends and activities that support the removal of Ceau?escu from poewr. <i>The Last Hundred Days</i> was an unusual selection for this year's Booker Prize longlist, but it is a thriller that deserved to be there, and it should have been selected for the shortlist, as well. McGuinness, who lived in Romania during the end of the Ceau?escu regime, paints a compelling and convincing portrait of communist Romania, a country where ordinary citizens queue for hours in line without knowing what, if anything, awaits them, whose citizens routinely die of starvation, and where historic churches and other buildings are torn down and replaced with concrete, poorly built monstrosities. This was an impressive debut novel, and I look forward to reading more from its talented author.
Review by dsc73277
16/06/2015
I struggled through the first thirty pages, then gradually warmed to it - if warmed is the right word for a book that feels quite cold, bleak and grey - before deciding around about page 143 that I simply did not want to carry on. Fortunately for me, escaping from the tyranny associated with Eastern Europe during the Cold War was simply a case of putting down a book. The author may have been so effective at conveying the complete lack of trust that pervaded Ceausescu's Romania that I ended up not trusting any of the characters, the English narrator included, and hence not caring enough for any of them to want to follow their story to the end.
Review by john257hopper
16/06/2015
This is an interesting semi- autobiographical novel set during the last  few months of Ceausescu's rule in Romania in 1989 (though it covers eight or nine months, not the three and a bit months the title implies). The author was present at that time and it shows in the very evocative descriptions by the unnamed narrator of the texture of life in Bucharest at this time, the stifling oppression, privations and utter  absurdities of Ceausescu's highly personalised rule. It includes some interesting debates on the nature of freedom and the compromises that every Romanian had to make to survive on a day to day basis. Indeed, so much so, that one wonders why the author chose to write this as a novel, with real life characters under disguised names, rather than openly writing a memoir. It is a bit of a slow burn. The first third or so is quite slow moving but it picks up pace. A good read for anyone interested in modern European history or in the modes of thought and action of modern dictators. 4/5