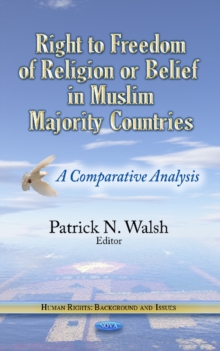 Right to Freedom of Religion or Belief in Muslim Majority Countries : A Comparative Analysis
Hardback
Description
Current developments in constitutional drafting are spurring renewed analysis of the existing constitutional landscape in the majority of Muslim countries.
New constitutions are being drafted in Egypt, Somalia, Libya, Sudan, Tunisia, and Turkey, among others.
Although the drafting and approval processes will no doubt be markedly different in each of these countries, international legal norms are clear about religious freedom standards.
In each country, questions will be raised, as they have been in the past, about the relationship between international legal/human rights norms and existing political arrangements in Muslim countries -- especially with respect to the internationally recognised right of freedom of thought, conscience, and religion or belief.
This study compiles and analyses constitutional provisions currently in place concerning the relationship between religion and the state, freedom of religion or belief, and related human rights in the 46 majority Muslim countries and in 10 other countries that, while not majority Muslim, are members of the Organization of Islamic Cooperation (OIC).
Information
Format: Hardback
Pages: 161 pages
Publisher: Nova Science Publishers Inc
Publication Date: 30/10/2013
Category: Human rights
ISBN: 9781628088458