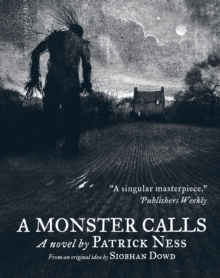 A Monster Calls
Paperback
Illustrated by

Jim Kay
Description
An extraordinarily moving novel about coming to terms with loss.The monster showed up just after midnight.
As they do. But it isn't the monster Conor's been expecting. He's been expecting the one from his nightmare, the one he's had nearly every night since his mother started her treatments, the one with the darkness and the wind and the screaming...
The monster in his back garden, though, this monster is something different.
Something ancient, something wild. And it wants the most dangerous thing of all from Conor.
It wants the truth. Costa Award winner Patrick Ness spins a tale from the final idea of much-loved Carnegie Medal winner Siobhan Dowd, whose premature death from cancer prevented her from writing it herself. Darkly mischievous and painfully funny, A Monster Calls is an extraordinarily moving novel of coming to terms with loss from two of our finest writers for young adults.
Information
Format: Paperback
Pages: 216 pages
Publisher: Walker Books Ltd
Publication Date: 01/02/2012
Category: General
ISBN: 9781406339345
Other Formats
Hardback from £10.00
Paperback from £6.15
Free Home Delivery
on all orders
Pick up orders
from local bookshops
Reviews
Showing 1 - 4 of 4 reviews.
Review by marnanel
16/06/2015
This is a book about how the real world isn't a struggle between good and evil, but a struggle between the power of nightmares and the power of story. A boy whose nightmare is a nightly terror is visited by a lesser nightmare which tells him stories. Together, the stories effect a change in his life and help him deal with the greater nightmare.The story was first conceived by Siobhan Dowd, who died from cancer before she could write it. Patrick Ness took her notes and spun a thing of beauty from them. My only two quibbles are minor: one of the three stories is hardly a story at all and would have been better fleshed out, and the description of yew needles as "leaves" was a little jarring.This was the first book which won both the Carnegie (for the text) and the Greenaway (for the illustrations). I rarely say this, but don't read this in the ebook version unless you have no access to a paper copy: the text and illustrations work so well together that unless you're reading it on paper you're only getting three-quarters of the story. The reproductions of the illustrations in the ebook just aren't the same.This book will infect your mind with helpful archetypes, and make you think more deeply. I urge you to read it.
Review by gogglemiss
16/06/2015
A really devastating story, that has left a lasting impression with me. A monster, whose origins from an overgrown yew tree in Conor's garden, became his only friend. Conor had to contend with an ailing mother, a distant father, a hated grandma and bullies from school. Plus his own personal nightmare. Really, a story that can be read, again and again . The illustrations added to the imagination, which made it much more acute.
Review by atreic
16/06/2015
I adored the Chaos Walking trilogy, so I was keen to read another book by Patrick Ness. But while I enjoyed this and could see it as a beautifully written and well crafted book, it isn't trying to be the same thing in the slightest. This book, although it has beauty and depth, is not a book with fascinating characters, or a great sense of things happening, or high plot - all of which were the things I loved about chaos walking. The characters are almost place-holder templates or cyphers - it is all about Conar and how he feels about his mother, who is ill with cancer. So we are in one place and one time,with a very small cast, and the book is much more about emotions.It is, however, a well told and engaging story that is quick to read, and makes some beautiful points- 'you do not write your life with words. What you think is not important. It is only important what you do'- 'There is not always a good guy. Nor is there always a bad one. Most people are somewhere inbetween'
Review by bethie-paige
16/06/2015
Oh my lord! This book took me by surprise. I sure wasn't expecting this book to make me cry. I just picked it up and couldn't put it down. Just, it was perfect. I literally can ask for nothing more from a book than what A Monster Calls provides. I honestly went into this book thinking it was going to be creepy and awesome. I got the awesome part, but in the wrong sense. It's execution and way of dealing with Conor's situation was a masterpiece. I began the story confused to the intentions of the yew tree monster but the truth grew to fruition as the story progressed. I loved the stories he told especially the invisible man. <br/>I just, don't think I have the right amount of words to express how I feel about this book. Boy am I grateful that I decided to pick this up. I've never been so happy from an off-chance purchase. <br/>Would recommend to absolutely everyone. Everyone in the entire world.