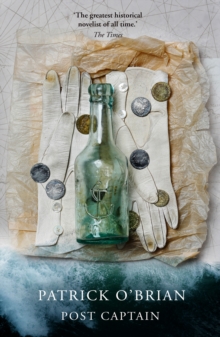 Description
Patrick O'Brian's Aubrey-Maturin tales are widely acknowledged to be the greatest series of historical novels ever written.Patrick O'Brian is regarded by many as the greatest historical novelist now writing.
Post Captain, the second novel in his remarkable Aubrey/Maturin series, led Mary Renault to write: `Master and Commander raised dangerously high expectations; Post Captain triumphantly surpasses them.'This tale begins with Jack Aubrey arriving home from his exploits in the Mediterranean to find England at peace following the Treaty of Amiens.
He and his friend Stephen Maturin, surgeon and secret agent, begin to live the lives of country gentlemen, hunting, entertaining and enjoying more amorous adventures.
Their comfortable existence, however, is cut short when Jack is overnight reduced to a pauper with enough debts to keep him in prison for life.
He flees to the continent to seek refuge: instead he finds himself a hunted fugitive as Napoleon has ordered the internment of all Englishmen in France.
Aubrey's adventures in escaping from France and the debtors' prison will grip the reader as fast as his unequalled actions at sea.
Information
Format: Paperback
Pages: 528 pages
Publisher: HarperCollins Publishers
Publication Date: 05/08/1996
Category: Historical adventure
ISBN: 9780006499169
Other Formats
EPUB from £4.99
Paperback from £7.15
Free Home Delivery
on all orders
Pick up orders
from local bookshops
Reviews
Showing 1 - 3 of 3 reviews.
Review by firebird013
16/06/2015
The second in the Aubrey/Maturin saga; maintains the pace of the first and unfolds the personalities of the key characters in a way that intrigues and always rings true. The action sequences are very gripping and in this book and those that follow O'Brian proves a master of suspense. That said, action never dominates and you cannot afford to skip a single paragraph - there is always something to delight in the way the story unfolds or a detail of early 19th century life is given.
Review by PilgrimJess
16/06/2015
This is the second book in the Aubrey/Maturin series and follows on from where Master and Commander left off. Jack Aubrey is without a ship and living on land as a country gentleman when he suddenly finds himself bankcrupt and in danger of being thrown into a debtors' jail. Aubrey and Maturin flee to France before finally returning to the UK where Aubrey is given command of an experimentally designed ship,the Polychrest.Now I love historically based novels but I found some of this book rather maddening as there seems to be several continuity gaps. O'Brian goes to great lengths to portray Aubrey and Maturin's journey across 300 miles of French territory with Aubrey dressed as a bear trying to escape arrest by the French. Once they arrive in Spain there is a sudden jump and they next appear in Gibraltar. Apparently Aubrey had been taken seriously ill but this fact hardle appears at all. Then Aubrey and Maturin have such a falling out that they are scheduled to fight a duel against one another, suddenly Aubrey is sent to sea and on return he and Maturin are best of friends again. On other occasions Maturin seems to be able to beam himself straight into Aubrey's company at will. Is this the fault of the author, publisher or editor? No idea but I found it very disconcerting.This book introduces two female characters who will no doubt feature heavily in the following books but on the whole I felt this in many ways detracted rather than added to the overall storyline in this particular book. However, my main gripe is the simple lack of 'on ship' action which I personally found annoying. It is possible to see how O'Brian's writing style has evolved from Master and Commander but this was not as good as the former IMHO.
Review by swampygirl
16/06/2015
This series continues to be a bit of a mixed bag for me. Another good audio book option - so you can zone out when it gets somewhat tedious.