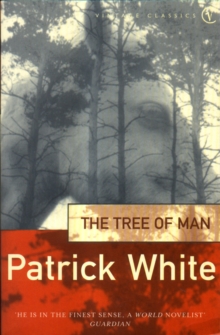 The Tree Of Man
Paperback
Description
Stan Parker, with only a horse and a dog for company journeys to a remote patch of land he has inherited in the Australian hills.
Once the land is cleared and a rudimentary house built, he brings his wife Amy to the wilderness.
Together they face lives of joy and sorrow as they struggle against the environment.
Information
Format: Paperback
Pages: 480 pages
Publisher: Vintage Publishing
Publication Date: 04/10/1994
Category: Classic fiction (pre c 1945)
ISBN: 9780099324515
Free Home Delivery
on all orders
Pick up orders
from local bookshops
Reviews
Showing 1 - 5 of 5 reviews.
Review by shawjonathan
16/06/2015
The prose in this book is impossible to read fast. It constantly pulls you up and makes you look at a particular word or image – or, if you don't stop, leaves you with an uneasy feeling that you've missed something. The point of view frequently moves around within a single short sentence, or rather within a grouping of words between consecutive full stops, since White is a great user of syntactical fragments. Even the very first sentence, innocuous enough at first glance ('A cart drove between the two big stringybarks and stopped'), has the reader slightly wrong-footed with its abrupt rhythm, its lack of a human or even animal subject, its slightly skewed use of articles ('the cart drove between two big stringybarks' be more natural, but would mean something quite different).I came close to genuflecting at the first four chapters, which tell of the primal encounter of 'the man', 'the woman' and the bush. I wondered if I would be able to keep up with prose of such intensity for the whole 480 pages. But once the narrative emerged into something resembling a social world – the man and the woman become Stan Parker and Amy Parker nee Figgins, the bush becomes a small farm and eventually a suburb – I was less enthralled. I just don't believe in the nastiness of most of the characters. I can't stand the snobbishness of the narrative voice. The drunken Irish shenanigans (read domestic violence, despair, wretched poverty and, towards the end, dubious religion) of the O'Dowds fail to amuse me. The pretentions of the nouveaux riches Armstrongs are awkwardly unconvincing, as is almost everything about the younger Parkers. The book seems to assume that some people, inarticulate or otherwise, have a capacity for rich inner lives, while others (most?) don't, and must settle at best for synthetic souls with occasional glimpses of higher possibilties. Perhaps the most striking disappointment is the vast, gaping silence about Aboriginal Australians. When Stan's cart stops between the stringy barks in that first sentence, it's definitely in terra nullius. 'Blacks' are mentioned twice, once when young Ray refers to their arcane knowledge of how to survive in the desert, and again in the closing pages when the missionary mentions sex with black women as a sign of his youthful depravity. The phrase 'dream time' occurs twice. The first time, Stan and Amy have come to an 'uneasy dream-time'. Since that probably signifies that neither of them was fully awake in relation to the other, the Aboriginal reference may be coincidental, but in the second, near the beginning of the fourth and final part, Stan looks back on his first days at the farm as 'the dream time'. Here the phrase does refer to a time of creation, of beginnings, and it disturbingly invokes this continent's history of genocide, dispossession and cultural appropriation. It invokes that history without acknowledging it. Aboriginal people have been erased and over-written.Then, there's a passage where Stan remembers a stretch of land as it was when he first cleared it, 'on it the white chips lying that his axe had carved out of the trees, and some trees and young saplings still standing and glistening there, waiting for the axe', and he goes away 'disturbed, and thinking'. In a book that makes much of 'things that are too terrible and wonderful to speak of' is it too much to imagine that in this moment the thing Stan does not wish to see is the silenced Aboriginal history? That that history is almost forcing its way into the narrative? There may well be hundreds of learned articles about this disturbed silence, but that's my two bob's worth.
Review by MelmoththeLost
16/06/2015
Having read it all the way to the end, I can understand and appreciate the difficulties some readers have had with this book. It has at its heart ordinary people, little people, whose lives are mostly as tedious and uneventful as those of other ordinary people, ie seemingly decades which slip by, almost unnoticed, and punctuated only occasionally by something "happening".White's novel is about watching things grow, but it's also about watching things gradually fall apart (and yes, I do think that "Things Fall Apart" could have been a good title for this novel), about effort made in optimism which turn to nothing in the long run. The garden which is Amy's pride and joy in the early decades has, by the end, turned rank and wild in the later ones, the emblematic white rose in particular. The children who should have been the future and the reward for the work and sacrifices of the parents are almost abortions in the widest sense of the word - Thelma, barren, snobbish and hideously superficial, and Ray, the petty criminal with psychopathic tendancies. And at the end,we are left with the poignant death of the last dog. With the past swept away, Amy's only ray of hope (perhaps ironically, perhaps symbolically) is her legitimate grandson, Ray.Above all this is a book which demands to be read at its pace rather than that of the reader. If you go along with it and give it the time it demands you will find much more in it than if you gallop through it. White handles the transition of time with consumate skill. Although the novel begins c1900 and ends c1950 there are very few indicators which tell the reader precisely where they are in this time period except by intuition and decades pass on the turn of a phrase, and I wish I could pin down in hindsight the point at which "the man" and "the woman" became "the old man" and "the old woman".Having said that this is not a book to rush, I'd also say that it's one to read in long stretches, if only to really sink into the language and imagery which White conjures up and to appreciate the way he handles the long sweeps of time and subtleties of incremental change.
Review by jwhenderson
16/06/2015
A poetic tribute to man and nature. The Tree of Man succeeds in capturing the opening of the frontier in Australia. It is reminiscent of O. E. Rolvaag or Conrad Richter who did the same for the American frontier. The story is a universal one, even so White succeeds in creating individual characters, particularly Stan Parker, for whom you develop feeling. He succeeds in demonstrating basic human values and the inherent drama of life in the raw. That combined with the poetic descriptions of nature gave the characters life. In the case of Stan Parker, who throughout his life span was inarticulate, awkward, and sensitive, his stoicism was impressive. Amy, the orphan girl he took as his wife, was a frustrated lusty woman he has made her, yet I found something appealing in her despite her yearnings and ultimate fall; the neighbors, except for the dissolute Irish O'Dowds, and the Quigleys,- Bub who was a child all his life, and his protective sister Doll, who killed him to save him the danger of being left, alone,- provide a convincing background -- a sort of Greek chorus. The events move slowly across the stage, against flood and fire and drought, against poverty, relative security and disintegration. The outside world intrudes with war, but the center of the community is underscored by the strength of nature. Here is an example of the author's poetic limning of nature's rainstorm:"The lightning, which could have struck open basalt, had, it seemed, the power to open souls. . . As the rain sluiced his lands, and the fork of the lightning entered the crests of his trees. The darkness was full of wonder. . . Soon a new gentleness had crept into the rain, because the storm was passing. Sound become indistinguishable from sound. The drops were separate on the iron roof, the last cold gusts rubbed leaf on leaf." (p 151)With the next generation growing up, the focus is on the Parker children who emerge as individuals:- Thelma, who marries above her station, and returns at intervals, to hover over her parents, but never really to share; Ray, whose story is not one of success. It is a beautiful saga of man and nature. A man, redeemed by compassion, living in the stark simplicity of the world around him, the only world that he knows. But, in the end the book returns again to nature, to the trees."In the end there are the trees. They still stand in the gully behind the house, on a piece of poor land that nobody wants to use. . . On still mornings after frost these stand streaming with light and moisture, the white and the ashen, and some the colour of flesh." (p 479)It is a poem of life and people and their lives that remains in your memory after you close the last page.
Review by cmbohn
16/06/2015
Wow, what a chunk of a book! 499 pages. And I don't know why that feels so big, as I have read some for the challenge that were even bigger, but it just felt like a really big book.The book is all about an Australian couple, Stan and Amy Parker. It is sort of an epic, a great Australian novel, as it were. They build a home, work on their farm, raise cows, have a couple of kids, survive a flood and a fire, meet the neighbors. Stan goes off to war. Their son turns out to be a weak criminal type; their daughter a social climber. They both get old. Stan dies.And believe it or not, that is really the whole book. Why did it take 499 pages? I'm not entirely sure. It's certainly not because of the dialogue. Both Stan and Amy are taciturn by nature.Perhaps this is White's way of portraying the basic honest type of person who is always at the heart of a thriving nation. The Parkers are not every anyone special. But their lives are still important.I didn't really love this book, but I did enjoy the style. I'm not sure if it's the writer or because he was Australian, but there are just small differences in the way the story is told. I had to read it a little more carefully, because he says so much without saying it straight out. So much of the story is implied in just a few words, which means the reader has to extrapolate and decipher the littlest clue.I don't know if I will read more by this author or not, but this was certainly a change from what I normally read.
Review by baswood
16/06/2015
This is a life enhancing novel. Patrick White has brought his undoubted talents as a writer to bear to create a story that is both human and metaphysical. A novel of power and conviction, beautifully focused on the lives of his two central characters; Amy and Stan ParkerAt the turn of the 20th century; the young Stan Parker inherits a plot of land in the Australian outback. He is a practical slow thinking, hard working man who decides to clear the land and build himself a house. He finds a wife in a local frontier town with whom he will share his life. They make a farm together and watch other people move into the land around them, they survive floods and fire and Stan comes back from the war. They have children a boy and a girl who both in their way reject their parents honest simple life, but Amy and Stan endure; through their love for each other and the natural world around them, which cannot be expressed in words and remains a mystery to them, but speaks of some higher omnipotence, of which Stan is dimly aware.There was a seven year gap since the publication of White's previous novel The Aunts Story and during that time he had moved back to Australia with his partner Manoly Lascaris. The cultured, artistic life style of pre war London had been exchanged for the rough, tough life on a farm deep in the Australian hinterland. The two men worked hard to scratch a living and there was little time for writing, however when the need to write came upon White again he had a whole new experience on which to draw upon. David Marr's excellent biography of Patrick White links episodes from the life of Patrick and Manoly directly to passages in Tree of Man and I am tempted to think that Stan Parker; perhaps Whites first good character is based on Manoly.The dazzling prose and post modernist style of much of The Aunts Story has been stripped back for Tree of Man. White seems to have undergone a process of re-invention and certainly his more direct style suits the subject matter. His move back to Australia has allowed him to pick up the speech idioms of the country people and to present to us their less sophisticated views and emotions in sentences that seem perfectly natural. The cleverness has gone out of his style and he seems no longer to have to prove to his readers that he can write. There are still plenty of purple patches in his prose style, but they no longer distance the reader from the subject matter. White is a master of the stream of conscious technique, but it is reigned back here and used more sparingly. He uses it particularly well when there is music or art present. A concert or theatre going experience will lead his characters to muse about their own lives as they listen to a performance, stimulated by what they hear their mind will wander in all sorts of directions, allowing White to introduce new thoughts and ideas.Stan and Amy Parker are indeed a fine creation. It is through their thoughts that much of the story is told although there are excursions into the lives of their disappointing children. Ray is a particular problem who seems in revolt against his father's goodness. He shy's away from his mother's love as though he is not worthy in comparison with his father and when he leaves home it is no surprise that he get's involved in criminal activities that will have harmful effects on those around him. His father on hearing about one of his escapades feels obliged to do something and White writes poignantly about Stan:"But Stan Parker came.He could not have avoided coming. In the beginning, as a young man, when he was clearing his land, he had hewn at trees with no exact plan in his head, but he got them down, even at the expense of his hands, though these in time became hard, and there were boulders to be moved, that he strained against with his horse, till the soft bellies of man and horse grew hard and stony too, and the stone of will prevailed over rock. It was in this frame of mind that Stan Parker, the father, blundered into town. He had no plan. He was bewildered by much of what he had been told. But he would if given a chance, harness his will to the situation and move it by strength and determination. He supposed. In the end he had hewn a shape and order out of the chaos he had found. He was also an improviser of honest objects of wood and iron, which, if crude in design, had survived to that day. His only guide in all of this had been his simplicity." Love is of course a central theme in the novel and White seems to explore similar ideas in this respect to D H Lawrence. Amy and Stan have an undying love that Stan accepts as given, but this is not enough for Amy. She worries that she does not show or does not in fact love Stan enough. She craves to get closer to her husband and finds it difficult to accept that in many respects each of them are inviolable. This is in contrast to the O'Dowds who live on a neighbouring farm, their lives seem completely at odds to the Parkers, O'Dowd is an alcoholic, their farm is a ramshackle affair they appear on the edge of chaos and yet they love each other unconditionally and demonstratively. At the time of writing Tree of Man White was looking towards religion as a possible salvation from the human condition and some of this is explored in the novel, but it is left inconclusive. It is practical experience that will play the biggest part in the life of the Parkers. Stan experiences an epiphany at the end of his life, but it is his simplicity and his wisdom that leads him to it. For Amy there is not quite the same thing as she desperately tries to share in her husband's vision.In previous novels Patrick White has kept his characters at arms length from his readers, but this changes with Tree of Man. He makes us care about the characters. Their humanity is there for us all to see, their faults their failings, but also their love and their kindnesses. He gets us right in close and it is painful sometimes, but the rewards are great and the emotional impact of Stan's death will live long in my memory. Patrick White has found his voice with Tree of Man. Highly recommended and a 5 star read..