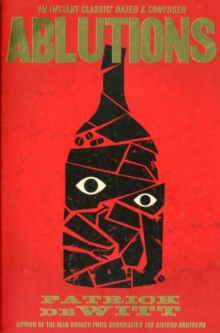 Description
A nameless barman tends a decaying bar in Hollywood and takes notes for a book about his clientele.
Initially, he is morbidly amused by watching the regulars roll in and fall into their nightly oblivion, pitying them and their loneliness.
In hopes of uncovering their secrets and motives, he establishes tentative friendships with them.
He also knocks back pills indiscriminately and treats himself to gallons of Jameson's.
But as his tenure at the bar continues, he begins to lose himself, trapped by addiction and indecision.
When his wife leaves him, he embarks on a series of squalidly random sexual encounters and a downward spiral of self-damage and irrational violence.
To cleanse himself and save his soul, he attempts to escape ...
Information
Format: Paperback
Pages: 172 pages
Publisher: Granta Books
Publication Date: 01/01/2012
ISBN: 9781847086341
Free Home Delivery
on all orders
Pick up orders
from local bookshops
Reviews
Showing 1 - 1 of 1 reviews.
Review by pgmcc
16/06/2015
This is written in an experimental fashion, supposedly as notes for writing a novel. I got used to the format sooner than I expected and it didn't annoy me too much.The story is told from the viewpoint of a person who works in a bar and is an alcoholic. Descriptions of people and events presented as notes for a novel soon build a mosaic of the main characters life, his failed hopes, and the general decline of his wellbeing.I would not recommend this novel to people of a sensitive or conservative nature. The characters and events are not those generally found in polite society.De Witt managed to keep me guessing about how the story would play out and he managed to do something that I recall Franz Kafka achieving in his novel The Castle. He had me experiencing the feelings and circumstances of the viewpoint character. At one point in the story the main character has been drinking heavily, he has had some personal hygiene accidents, and experienced some disappointments and letdowns. When I was reading that part of the book I felt grubby, woozy of mind, and could sense the building depression of the character. The book grew on me as I read it and I do believe de Witt has demonstrated skill by making the reader experience the feelings of the character in the story and keeping the reader guessing as to how things will turn out, but I cannot bring myself to give it a full four stars. It will have to do with three and a half which is still good in my scoring scheme.