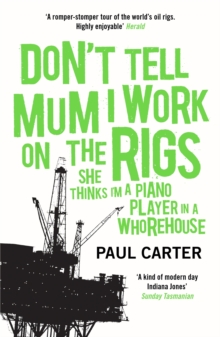 Don't Tell Mum I Work on the Rigs : (She Thinks I'm a Piano Player in a Whorehouse)
Paperback
Description
A take-no-prisoners approach to life has seen Paul Carter heading to some of the world's most remote, wild and dangerous places as a contractor in the oil business.
Amazingly, he's survived (so far) to tell these stories from the edge of civilization.
He has been shot at, hijacked and held hostage; almost died of dysentery in Asia and toothache in Russia; watched a Texan lose his mind in the jungles of Asia; lost a lot of money backing a scorpion against a mouse in a fight to the death, and been served cocktails by an orangutan on an ocean freighter. And that's just his day job. Taking postings in some of the world's wildest and most remote regions, not to mention some of the roughest rigs on the planet, Paul has worked, got into trouble, and been given serious talkings to, in locations as far-flung as the North Sea, Middle East, Borneo and Tunisia, as exotic as Sumatra, Vietnam and Thailand, and as flat-out dangerous as Columbia, Nigeria and Russia, with some of the maddest, baddest and strangest people you could ever hope not to meet.
Information
Format: Paperback
Pages: 224 pages
Publisher: Hodder & Stoughton General Division
Publication Date: 08/11/2007
Category: Petroleum & oil industries
ISBN: 9781857883770
Free Home Delivery
on all orders
Pick up orders
from local bookshops
Reviews
Showing 1 - 2 of 2 reviews.
Review by frederikv
16/06/2015
Not so much an autobiography as a collection of anecdotes, this book still manages to capture your attention until you finish it. With a bit more attention from the editor, this could have been a truly funny and sometimes shocking account of Paul Carter's life in the oil business. Now it's still a capturing overview of the life-defining moments the author experienced while working on oil rigs all over the world.
Review by birdsam0610
16/06/2015
My mother laughed uproariously throughout this book, then thrust it into my hands and said, 'You must read this'. When she saw that I was planning to read it on the train, she was worried. 'You might laugh too much'.There are some hilarious points to this book, one of them involving a clever monkey and a key, others involving boyish hijinks on an oil rig. There are serious points too (such as what accidents can happen on a rig) but Carter makes this a light-hearted, fun read. Following the oil action around the world, he comes into contact with remote tribes, guns and what being stuck on a rig for a small period of time can do to you – such as becoming friends with spiders. He also experiences the traveller's worst nightmare – dysentery at 30 000 feet. There are some serious points, such as the downside to relationships when you're stuck in a remote area of the world and accidents in the Aussie Outback.For those who are worried that the vagaries of oil rigging may be beyond their knowledge, Carter provides a helpful diagram and brief explanations – not that you need it, because the laughter is pouring out just like, dare I say it, an oil strike!This is simple, fast read – perfect for standing out in a crowd because everyone will be wondering what on earth you're laughing about.