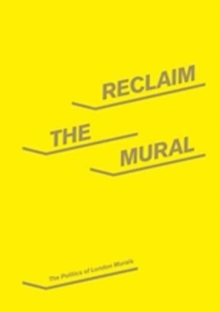 Reclaim the Mural : The Politics of London Murals
Paperback / softback
Description
This new publication focuses on ten key murals in London - ranging from the well-known and visible such as The Battle of Cable Street in East London to the forgotten and hidden - to examine how these public paintings have changed over time and how the spaces around them have transformed.
The murals are presented through newly-commissioned photographs, each accompanied by a text by The Work in Progress (Benedict Drew, Emma Hart, Dai Jenkins, Dean Kenning and Corinna Till) which draws on and reflects on the broader questions of the project.
How does making a mural in a local community alter artistic decision-making?
Why confront the difficulties of making an image collectively?
How have changes in the distribution of art funding in recent decades affected mural production?
With an introduction by the curators of the project and an essay by writer Owen Hatherley, Reclaim the Mural offers a unique insight into a long-term, artist-led project.
It is the only publication which looks critically at the legacy of the mural and community arts movement of the late seventies and provides an important analogy with contemporary questions surrounding the social function of art.
Information
Format: Paperback / softback
Pages: 34 pages, 10
Publisher: Whitechapel Gallery
Publication Date: 30/07/2013
Category: Art & Photography
ISBN: 9780854882090
Also by Paul Crook