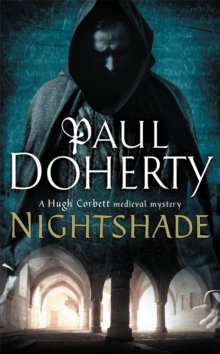 Nightshade (Hugh Corbett Mysteries, Book 16) : A thrilling medieval mystery of murder and stolen treasure
Paperback
Description
January 1304 and Hugh Corbett, devoted emissary of King Edward I, has been charged with yet another dangerous mission.
Scrope, an unscrupulous manor lord, has reneged on his promise to hand over a priceless ornate cross he stole from the Templars during the Crusades.
Furthermore, he has massacred as heretics fourteen members of a religious order, whose corpses now hang in the woods near Mistleham in Essex.
The King, determined to restore order, sends Corbett to Mistleham in his stead.
But as Corbett reaches the troubled village, it becomes obvious that the situation has worsened.
A mysterious bowman has appeared, killing townspeople at random.
Is one of the Brethren responsible, or have the Templars arrived to wreak revenge?
Can Corbett restore Mistleham to peace, and return the treasure to the King, before further blood is shed?
Information
Format: Paperback
Pages: 384 pages
Publisher: Headline Publishing Group
Publication Date: 11/12/2008
Category: Historical mysteries
ISBN: 9780755338412
Free Home Delivery
on all orders
Pick up orders
from local bookshops
Reviews
Showing 1 - 2 of 2 reviews.
Review by vernefan
16/06/2015
Crossbow CrusaderSir Hugh Corbett, an emissary to England's King Edward I in the year 1304 has been issued a mission. The king's treasure trove has been breached. A vast wealth of royal gold and gems, and a glorious jewel encrusted dagger known as the Sanguis Christi, the legendary dagger that pierced Christ's side, was among the items of theft. Also, there have been murders. In a small town named Mistleham, people are showing up dead brutally killed by arrows, shot dead by a crossbowman going by the name of Sagittarius. Sir Hugh and his assistant Ranulf travel to Mistleham to find much trouble brewing amongst a den of thieves, an elusive murderer, and band of town residents with much to hide. Lord of Mistleham, Oliver Scrope, is on the rampage. His town is being slowly slaughtered one person at a time, and he wishes Sir Hugh to bring the feared forest bowman, who is acting akin to Robin Hood, to justice. But Ranulf and Sir Hugh soon realize as more people are murdered each day, that all is not as it seems in this quite country village. Villagers, priests, wife, and sister of Lord Scrope, all hate the man and wish him dead. Only process of elimination after much investigation and interrogation can bring the murderer to the light. After much digging and daily interviews with every member involved, Hugh learns that Oliver Scrope, his illegitimate son, and two of the local priests were all Crusaders who fought many years earlier in the city of Acre battling against the Saracens. While there, they hatched a plot to murder a friend, and Templar treasures were stolen and brought back to Mistleham. One relic brought back was the Sanguis Christi. Both mischief in the past, and mayhem in the present, have Oliver Scrope hiding secrets of evil deeds and everyone around him praying for his demise. This is a short mystery, the 16th installment in the Corbett Medieval Mystery series by Paul Doherty. The author is a seasoned historical mystery author with over 50 books written under his literary belt. For that reason alone I was shocked at the simplicity of the story, the formulaic plot lacking creativity, and what I would consider very poor character development. I have never read this author before, and jumped into this series not having read the earlier 15 installments. Hugh Corbett's personality was as flat as a pancake. We are given no information about him, he has no exceptional qualities, he has no flaws, no quirky idiosyncrasies that most literary sleuths covet, no charm, no wit, no NOTHING. He is just a man who has a duty to his king to solve mysteries, and with simple questions and answers asked to the background characters placed in the scenery of the story, interrogates and analyzes to then come up with his deduction. One particular specific gripe I found with this mystery was that within the story, right up to the end, Ranulf and Hugh have come up with no clues, and no answers as to who the murderer is. Then all of a sudden, as if a lightbulb went off, Hugh suddenly comes up with the answer, accuses the murdere and tells him why and how he did it, but does not tell the reader how he came to these sudden conclusions. Sorry, doesn't fly with me and I found that tactic very lame. Most mystery lovers wouldnt care for that much. I was very bored with this novel, I felt there was no action, no suspense, no humor, and nothing curious enough to say there was anything interesting about it. I was highly disappointed knowing this author is so prolific and is highly acclaimed in the historical mystery genre that is similar to Ellis Peter's Brother Cadfael series, or Peter Tremayne's Sister Fidelma books. The book wasn't horrible, but it certainly was nothing to write home about.
Review by Carpe_Librum
16/06/2015
I can't believe this is the 16th in the Hugh Corbett Medieval Mysteries series, and I have them all!!! Not only that, I'm now up to date, with the next in the series due to be published in paperback on 1 November 2010.I've enjoyed the character development throughout the series. Sir Hugh Corbett wants to spend quality time with his wife, and is anguished each time the King sends him away on a new piece of business. Meanwhile Ranulf is power hungry and keen to advance, eagerly accepting secret instructions from the King. Ranulf's investigative skills and powers of observation continue to grow and he is beginning to emerge as a force to be reckoned with.In Nightshade, we're transported back to 1304 as Sir Hugh Corbett, Ranulf and Chanson are dispatched by the King to Mistelham. They are to retrieve items stolen from the Templars during the Crusades as well as get to the bottom of the hideous slaughter of 14 seemingly innocent members of a religious order, their corpses left to hang in a deserted area of the forest. Tales from the Crusades, hidden clues, tightly held secrets and a deadly bowman stand in the way of Sir Hugh restoring order and finding the culprit/s.Doherty conjures the sights, sounds and smells of the period extremely well, which is the main reason I continue to follow and enjoy his series. His descriptions of the biting cold and the fog make me appreciate the luxuries of the present day all whilst snuggling down deeper into my doona. Doherty follows the familiar plot construction of the series, which makes for a predictable style but pleasurable read.