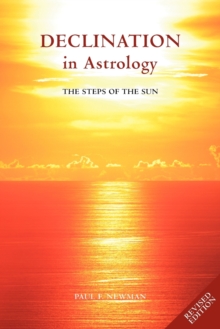 Declination in Astrology : The Steps of the Sun
Paperback / softback
Description
In western astrology we have grown accustomed to perceiving the Sun's path as circular: the years revolve and the days and months return again, the 360 degrees of the zodiac go round in a ring.
But the Sun has an up and down path too. It climbs steps of declination from each equinox to solstice and descends again from solstice to equinox.
It marks off time in a different way which gives an extraordinary view, and adds an extra breadth to the meaning and movement of the heavenly bodies.
This comprehensive work not only covers the technique of declination, but it is full of the fascinating myths and traditions which form the cornerstone of our culture - it will therefore be of great interest to anyone who follows the natural rhythm of the solar and lunar festivals in the course of their everyday lives.
Information
Format: Paperback / softback
Pages: 212 pages, black & white illustrations
Publisher: Wessex Astrologer Ltd
Publication Date: 01/10/2006
Category: Astrology
ISBN: 9781902405223