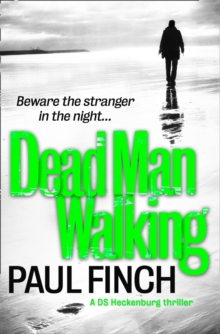 Dead Man Walking
Paperback
Description
The fourth unputdownable book in the DS Mark Heckenburg series.
A killer thriller for fans of Stuart MacBride and Luther, from the #1 ebook bestseller Paul Finch.His worst nightmare is back...As a brutal winter takes hold of the Lake District, a prolific serial killer stalks the fells. `The Stranger' has returned and for DS Mark `Heck' Heckenburg, the signs are all too familiar.Last seen on Dartmoor ten years earlier, The Stranger murdered his victims in vicious, cold-blooded attacks - and when two young women go missing, Heck fears the worst.As The Stranger lays siege to a remote community, Heck watches helplessly as the killer plays his cruel game, picking off his victims one by one. And with no way to get word out of the valley, Heck must play ball...A spine-chilling thriller, from the #1 ebook bestseller.
Perfect for fans of Stuart MacBride and James Oswald.
Information
Format: Paperback
Pages: 480 pages
Publisher: HarperCollins Publishers
Publication Date: 20/11/2014
Category: Crime & mystery
ISBN: 9780007551279
Free Home Delivery
on all orders
Pick up orders
from local bookshops
Reviews
Showing 1 - 2 of 2 reviews.
Review by RowingRabbit
27/08/2015
This book should come with a caution: In case of pre-existing heart condition, please check with your physician before opening. Heck is back. That would be DS Mark "Heck" Heckenburg, a man with a gift for attracting trouble even when posted to a sleepy rural village. After the fallout from his last case ("The Killing Club"), Heck was banished to the Lake District. Ostensibly it's as part of Scotland Yard's Anti Rural Crime Initiative. In reality it's as punishment meted out by Superintendent Gemma Piper, his old boss. They have a long history but Piper has finally had it with his tendency to colour outside the lines.Now stationed in Craigwood Keld, Heck's days are spent covering miles of sparsely populated fens & mountains. The one bonus is the Witch's Kettle, a local pub popular for 2 reasons. It's the only one in town & it's run by the lovely Hazel Carter.His "staff" consists of PC Mary-Ellen (ME) O'Rourke, a feisty young woman with limitless energy. She's eager to learn but with most of the calls being of the search & rescue variety, Heck fears for her education. That's about to change.It begins with 2 missing hikers. The weather in early November is unpredictable & a thick fog has descended, reducing visibility to zero. Heck & ME's search is hampered by the treacherous conditions but they find one of the young women, battered & barely alive. She tells a chilling story of being stalked & attacked by a faceless stranger. One detail stands out...he was whistling "Strangers in the Night". This gets Heck's attention. Ten years ago, Piper was part of a team that trapped a sadistic killer known as the Stranger. She shot him & barely escaped but his body was never found. Heck hasn't spoken to Piper since his transfer & she's reluctant to believe there's a connection. It was the case that started her meteoric rise through the ranks. It was also the beginning of the end for her relationship with Heck. But privately she has always wondered if the Stranger is still out there.It's an old ghost she can't shake & Piper surprises Heck by travelling to the area. She'll be one of the last to make it as the weather settle sin, cutting off cell service & closing the roads.What happens next makes for a full on thriller. The tiny hamlet is soon at the mercy of a killer who is smart, cruel & always one step ahead. Heck & Co. have few resources & their isolation creates a plot similar to a closed room mystery.This is a creepy, atmospheric read. The author's descriptions of rugged landscape shrouded in fog lend a claustrophobic feel to the setting. The sense a menace is pervasive & it's easy to relate to the paralyzing fear of the villagers. They're an odd assortment but the story belongs to Heck, ME & Piper.This is book #4 & Heck is a well established character. He's a conscientious, likeable guy whose laid back manner belies a keen mind that never truly shuts down. His obsessive focus has led to great success professionally. His personal life is another matter. The lonely cop who bends the rules is hardly a revelation but in this case makes for an intriguing character. His blue collar background has left him comfortable in his own skin, with no aspirations to leave the street & become a paper pusher. Just a heads up. The author spares no adjective describing the gory crime scenes & the killer's MO left me a tad squeably. But by then I was hooked & had to know how he was going to extract his characters from this seemingly hopeless situation.It's a scary, fast paced read that keeps you turning the pages. If you're a fan of Stuart MacBride, Lee Child or Steve Berry, this is for you.
Review by atticusfinch1048
16/06/2015
Dead Man Walking - #HookedonHeckDS Mark Heckenburg is back again in exile from London and the Met to the sleepy backwaters of Cumbria and the village police station. Nothing exciting here no murders no violent offenders to worry about other than what to do all day a real change from London. In Dead Man Walking Heck is back as lovable as ever, attracting trouble like a fly round s*~t he is still a born survive with the capacity to out live whatever the job throws at him.Paul Finch never holds back with the violence or the twists in his previous writings and once again he delivers all but hellfire up on Heck but I am sure that will appear eventually. Dead Man Walking sees the bodies pile up in the fog but does it a breathtaking pace ticking all the boxes you want from a thriller. At no point is the perpetrator of mayhem and murder telegraphed so you can work it out from early in the novel you only find out at the end and then it is through a twist. Once again with Dead Man Walking Paul Finch has delivered another absolute stunning thriller proving that he is up with the best of British crime writing.DS Mark Heckenburg is up in Cumbria having transfer out of the Met after a bust up the Detective Superintendant Gemma Piper, his one time love and his line manager. He is up in the Langdale Pikes protecting the people of the hamlets of Cragwood Keld and Cragwood Ho the only detective for miles around along with PC Mary-Ellen O'Rourke.Two city girls get lost on the Tors in the fog as they go hiking Heck and M-E get the police launch out to search the outer banks of the lake when they discover one of the girls a live if only just. The fog is down and around the whole of the area and the recovery and transfer has to be done by road to hospital. When Heck is able to interview the surviving girl she tells him what happened but for Heck it had reminders of an unsolved case from ten years prior that made Gemma Piper's career The Stranger murders. Heck informs Piper there may be links to that old case and she makes her way north.With the hamlets in lockdown the murderer is out in the fog having their fun at the expense of the villagers. As Heck and Piper tramp over hill and dale in the desperate attempt to bring the offender to justice they become targets too. They are getting shot at every move they make is being anticipated and as they move from a farm towards the hamlets they find dead villagers who have met a very grisley end. Heck and Piper are up beat at first in their belief that other officers will come to their aid as they have asked for back up and it is not until the discovery of dead colleagues they understand that they really are on their own. Somehow they need to evacuate the remaining residents keeping them alive while trying to find and arrest the person responsible for all the mayhem and death around them.Dead Man Walking is a brilliant addition to the DS Heckenburg series of thrillers and the more you read the more you want from the books. Heck is our very own superhero who seems to survive whatever is thrown at him. You will not be able to put this book down and once finished you will want the sequel now not next year. Paul Finch's writing draws you in like heroin and gets you hooked on Heck and you will want that next fix.
Also in the Detective Mark Heckenburg series | View all