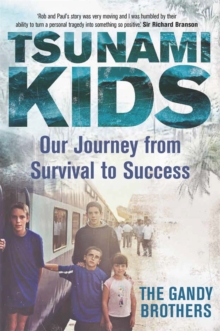 Tsunami Kids : Our Journey from Survival to Success
Hardback
Description
On Boxing day 2004, Rob, Paul, Mattie and Rosie Forkan tragically lost their parents in the Boxing Day Tsunami that devastated Sri Lanka.
Aged from 8 to 17, they subsequently faced a harrowing and solitary 200km trek across the decimated country to get home to safety. The bravery, ingenuity and resilience they displayed was the result of their unusual upbringing.
Taken out of school at a young age, they received an unconventional and global education, learning independence and resourcefulness while carrying out voluntary work for charities in India alongside their parents. In the decade since the tsunami, Rob and Paul have created a multinational brand, Gandys Flip Flops, which was based in the front room of their rented flat and has been endorsed by entrepreneurs including Richard Branson, and set up Orphans for Orphans, a charitable organization that uses 10% of the profits to support children deprived of education, nutrition and medication. This is a heartbreaking, engaging but ultimately uplifting journey from the streets of Sri Lanka to the boardrooms of London, Downing Street and beyond as told by two inspirational survivors.
Information
Format: Hardback
Pages: 256 pages, 16pp plates
Publisher: Michael O'Mara Books Ltd
Publication Date: 13/11/2014
ISBN: 9781782433576
Other Formats
Paperback from £6.65
EPUB from £4.54
Free Home Delivery
on all orders
Pick up orders
from local bookshops
Reviews
Showing 1 - 1 of 1 reviews.
Review by presto
27/08/2015
Boxing Day 2004, we probably remember the day a devastating Tsunami struck the coastlines bordering the Indian Ocean, but there are those who have a much greater reason to remember than most of us; included among them the four siblings of the Forkan family; Rob, Paul, Mattie and Rosie, their ages ranging from eight to seventeen in 2004. They were travelling with their parents and when the Tsunami hit they were stating in Weligama on the south coast of Sri Lanka; the four children survived but not their parents. For any children that would be a tragedy beyond imagination, and no less so the the Forkam children, what makes their story unusual is their resilience, they way they have moved from disaster to a success few of us will attain, let alone in just a matter of a few years. In this account of their lives Rob and Paul Forkam leave no doubt in the reader's mind as to what they owe their ultimate success. Time and again we are reminded that it is entirely due to the way their parents raised them, for theirs was no ordinary upbringing. Their parents raised the children, in total six, to be self reliant and competitive, to make and earn their own way, and as is the best way to instruct they led by example.When the two eldest left home the family sold up and went travelling with the remaining four children to India for what was intended to be four months, but in fact turned out to be much longer; a wonderful adventure but which ultimately came to an end on that fateful day 2014. Rob and Paul relate with the help of Nick Harding their early childhood spent in the large family home in Purley where they were encouraged to spend most of their spare time playing in the large garden (no computer games) making their own entertainment. They describe their travels in India, their schooling, or perhaps more accurately, lack of, but a lack which clearly did them no harm, for what they may have missed by way of formal education they more than made up for in learning of the world at large and the inequalities of life, and in growing into an early maturity. After describing the events of the disaster and their struggle to make their way to the Colombo, and their return to England, they go on to relate how they coped with the difficult months and then years, how and where they lived, and how they moved on through various jobs and to the eventual success of their own company Gandys Flip Flops; a success which led to meetings with the likes of Richard Branson, David Cameron and the Princes William and Harry.Theirs is a remarkable story, all the more so due to their circumstances; it is a testimony to the benefits of dedication, self-belief and hard work. But it speaks too of the support of a family bonded not just by tragedy, but by the closeness engendered by their parents. It is a story about wanting to give back, not just to live up to their parents example, but to give back to those less fortunate than themselves. It is a story of four remarkable children who are determined to let nothing hinder their progress in this world, and along they way do some good for others.It gives one much to think about, including the importance of good parenting; and raises questions such as what is a real education?It is told in very readable prose (putting aside a few grammatical glitches which are all too commonly encountered today) and held my attention from the very first page to the last, an account I read in one sitting interrupted just once to get myself something to eat. Rob and Paul come across as two very personable young men prepared too give life their all; who are game for anything including getting involved a police sting operation. It is a very moving account, heartbreaking, but ultimately heart-warming; but perhaps surprisingly it is positive throughout; but thinking back not so surprising, for positiveness is just one of the many fine qualities of these exceptional boys.
Also by Paul Forkan