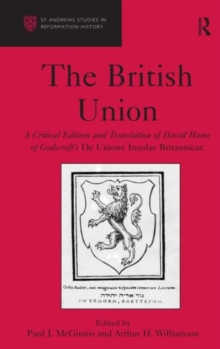 The British Union : A Critical Edition and Translation of David Hume of Godscroft's De Unione Insulae Britannicae
Hardback
Description
De Unione Insulae Britannicae (The British Union) is a unique seventeenth-century tract that urged the fusion of the Scottish and English kingdoms into a new British commonwealth with a radically new British identity.
Its author, David Hume of Godscroft (1558-c.1630) was a major intellectual figure in Jacobean Scotland and the leading Scottish critic of the anglicizing policies of James VI. The tract was written in two parts. Published in London in 1605, the first part provides a general outline of the imperative of union.
The second consists of political and constitutional proposals whereby such a union might be achieved.
Its publication was suppressed and it exists only in manuscript.
This is the first translation of the tract. Hume's work is breathtakingly contemporary in some of the proposals that it makes; regional assemblies combined with a national parliament, and a call for efforts to inspire the Scottish and English people into a sense of common purpose. The language and ideas of the tract display characteristics of the Renaissance combined with elements that visibly anticipate the Enlightenment. The De Unione offers extraordinary insight into the European intellectual world prior to the rise of romantic nationalism in the early nineteenth century.
Information
Format: Hardback
Pages: 352 pages
Publisher: Taylor & Francis Ltd
Publication Date: 21/08/2002
Category: Literary essays
ISBN: 9780754603405
Other Formats
EPUB from £40.49
PDF from £40.49
Also in the St Andrews Studies in Reformation History series | View all