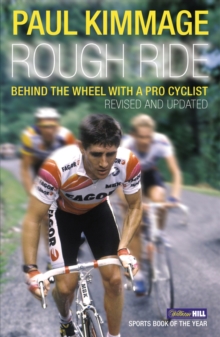 Description
First published in 1990, Rough Ride is one of the greatest books ever written about the life of a professional athlete.
Almost twenty years later, Yellow Jersey is publishing an updated edition of this cycling classic, with a new foreword by the author which reflects on his life both inside and outside the sport. Paul Kimmage's boyhood dreams were of cycling glory: wearing the yellow jersey, cycling the Tour de France, becoming a national hero.
He knew it wouldn't come easy, but he was prepared to put in the graft: he spent his teenage years cycling an average of 400 miles per week. The dedication began to pay off. As an amateur, he represented his country and finished sixth in the World Championships.
In 1986 he turned professional. That's when reality hit. He soon discovered it wasn't about glory and courage, and it wasn't about how much training you put in or how much you wanted to win.
It was about gruelling defeats, complete and utter exhaustion, and it was about drugs.
Not drugs that would ensure victory, but drugs that would allow you to finish the race and start another day. Paul Kimmage left the sport to write this book. It is a powerful and frank account that breaks the law of silence surrounding the issue of drugs in sport.
An eye-opening expose and a heartbreaking lament, it is a book that anyone interested in any sport should read. Winner of the William Hill Sports Book of the Year Award
Information
Format: Paperback
Pages: 336 pages
Publisher: Vintage Publishing
Publication Date: 07/06/2007
Category: Sports & outdoor recreation
ISBN: 9780224080170
Free Home Delivery
on all orders
Pick up orders
from local bookshops
Reviews
Showing 1 - 3 of 3 reviews.
Review by BillMcGann
16/06/2015
Rough RideWhat's it like to be a wonderfully talented amateur bicycle racer who gets thrown into the meat-grinder of professional cycling? Kimmage answers the question in honest yet depressing detail. An example: This book explains that the fatigued riders who did not place in the final stage of the Tour wouldn't be tested for dope, so they were free to take amphetamines. Reading "Rough Ride" is a lot like driving by a car crash. You really want to avert your eyes but can't. Kimmage's story of life as a cycling domestique is fascinating.Kimmage makes it very clear that he is only telling his own personal story and not accusing any other rider in particular. But the practices he exposes clearly indict the entire profession. His revelations of the culture of doping within the peloton brought him withering criticism. He wasn't the first to get in trouble for revealing cycling's nasty underside. Bernard Thévenet almost died of liver failure from overuse of corticoids. When he confessed that doping was the cause of his health problems and that doping was a common practice within the peloton, the 2-time Tour winner suffered terrible opprobrium from the press, his sponsor and his fellow racers.I believe Kimmage's book is the first (at least in English) to detail at length what life as a professional truly entailed. Since then former professional Erwann Menthéour has also written a memoir about doping in cycling which, to the best of my knowledge, has not been translated. Both he and Kimmage explained that the term for revealing cyclists' doping to the public is called "spitting in the soup". Menthéour's (who was caught using EPO) reply was "People are saying I am spitting in the soup, but it is necessary when it is poison." In the last year the wall of silence regarding doping has come tumbling down and several famous racers have confessed their misdeeds. Yet Kimmage's book is the seminal tome and writing it was an act of courage. The book is more than about doping. It details Kimmage's own failure to properly train and prepare for some seasons. He also describes the gut-busting exhaustion that the lesser riders suffer as they work at their limits for their more talented team leaders."Rough Ride" is a well-written book about racing in the 1980s but its lessons apply to the present. It is important reading for any cycling fan with an interest in what it takes to produce the spectacle we so enjoy watching.
Review by thegeneral
16/06/2015
Not a typical book I would buy but I enjoyed reading the book. Kimmage writes well, as one would expect given that he became a journalist, and the language flows. He puts all his feelings into the pages and you feel immense sympathy for his experience as a journeyman rider in the Tour. In my view his feelings regarding drug taking in cycling are vindicated in the book and have been vindicated by subsequent events. His additions to the later editions are particularly worth reading.
Review by michaelgambill
27/08/2015
Interesting insight into the life of professional cycling. I'm sympathetic with cyclists like Kimmage but when I hear him interviewed and as I read his book I mostly hear a lot of whining. Perhaps his bitterness is justified but it isn't particularly appealing.