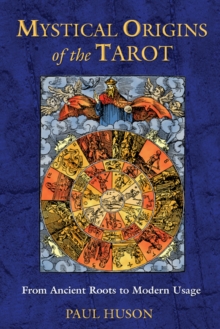 Mystical Origins of the Tarot : From Ancient Roots to Modern Usage
Paperback / softback
Description
The origins of the tarot have been lost in the mists of time.
Most scholars have guessed that its origins were in China, Egypt, or India.
In Mystical Origins of the Tarot, Paul Huson has expertly tracked each symbol of the Minor Arcana to roots in ancient Persia and the Major Arcana Trump card images to the medieval world of mystery, miracle, and morality plays.
A number of tarot historians have questioned the use of the tarot as a divination tool prior to the 18th century.
But the author demonstrates that the symbolic meanings of the Major Arcana were evident from the time they were first employed in the mid-15th century in the popular divination practice of sortilege.
He also reveals how the identities of the court cards in the Minor Arcana were derived from a blend of pagan and medieval sources that strongly influenced their interpretation in tarot divination.
Mystical Origins of the Tarotprovides a thorough examination of the original historical source for each card and how the cards' divinatory meanings evolved from these symbols.
Huson also provides concise and practical card-reading methods designed by the cartomancers of the 18th and 19th centuries and reveals the origins of the card interpretations promoted by the Hermetic Order of the Golden Dawn and A.
E. Waite.
Information
Format:Paperback / softback
Pages:352 pages
Publisher:Inner Traditions Bear and Company
Publication Date:26/05/2004
Category:
ISBN:9780892811908