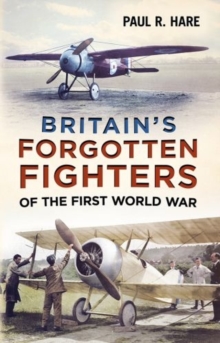 Britain's Forgotten Fighters of the First World War
Hardback
Description
Those with any interest in the First World War will have have heard of the planes most associated with that conflict - the legendary Sopwith Camel and Royal Aircraft Factory's S.E.5a, which are often called the "Spitfire" and "Hurricane" of the Great War.
Aviation enthusiasts might even know of the Camel's predecessors, the Sopwith Pup or the Triplane.
But what of the many other planes that saw active service in the war?
This is the story of those armed aeroplanes whose names few people can recall, the 'Forgotten Fighters' of the First World War, including the pusher 'gunbuses' of the early war years, the strange 'pulpit' design of the B.E.9, the desperate conversions of reconnaissance machines that were never intended to be armed, and those which were thought too tricky for the average pilot to handle.
It is also the story of the brave men who flew these machines, fighting, and too often dying, for a cause they believed in.
Some of these aeroplanes only served in small numbers and others in areas away from the main battle on the Western Front, but all made a vital contribution to the winning of the war. And these lost but iconic fighter aircraft, and the brave young men who flew them, deserve to be remembered just as much as the more famous aces in their legendary machines.
This is their story.
Free Home Delivery
on all orders
Pick up orders
from local bookshops
Also by Paul R. Hare