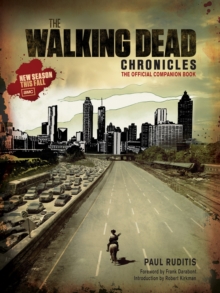 Walking Dead Chronicles
Hardback
Description
"The Walking Dead Chronicles: The Official Companion Book" is the only authorized, behind-the-scenes guide to season one of the new American television series, "The Walking Dead", which tells the story of a sheriff's deputy leading a band of survivors in a post-apocalyptic world overrun by the undead.
The show, in its first year as an hour-long television drama broadcast in the U.S. by AMC, immediately captivated and terrified audiences worldwide, successfully translating the characters and storylines from the "New York Times" bestselling comic book to a new audience. "The Walking Dead Chronicles" is lavishly illustrated with never-before-seen sketches, unit photography, storyboards, set designs, makeup and visual effects shots, and page-to-screen comparisons of the comic and TV show. Featuring new interviews with series creator Robert Kirkman and executive producer Frank Darabont, as well as cast and crew, the book also includes sidebars that serve as a detailed episode guide to season one, reproducing trivia, backstories, character sheets from the show's 'bible', and hinting at what comes next for the comic and the television show, revealing new directions for the second season and beyond.
Information
Format: Hardback
Pages: 208 pages, 200 colour illustrations and photos
Publisher: Abrams
Publication Date: 01/10/2011
Category: Television
ISBN: 9781419701191
Free Home Delivery
on all orders
Pick up orders
from local bookshops
Reviews
Showing 1 - 1 of 1 reviews.
Review by bragan
16/06/2015
I had very mixed feelings about <I>The Walking Dead</I> TV series at the beginning. I really liked the survival-horror soap opera premise, and I was impressed with the production values, especially the great FX work on the zombie makeup. I also found both the zombies and the post-apocalyptic world they'd created genuinely scary. But my reaction to the characters ranged from mild liking to a strong and frequent desire to punch them in the face, and I thought several aspects of the storytelling could have been handled better than they were. The show's gotten steadily better as it's gone on, though, and I'm now <I>very</I> glad I decided to stick with it. Somewhere in season two, something finally clicked for me, and at this point, I'm completely hooked on it, and have developed considerable emotional investment in at least some of the characters. (OK, mostly Daryl. But he'd be almost enough by himself to make the show worth watching.)With the series about to return after its mid-season three hiatus, and with me feeling much more charitable towards those early episodes in hindsight, this seemed like a good time to take a little look back with this companion volume, which was published between the first and second seasons. It covers pretty much the territory you'd expect:the development of the show, its comic-book origins, casting and visual effects, and so on. It's decently written, as such things go, with plenty of interesting quotes from various people involved in the making of the series, especially showrunner Frank Darabont and Robert Kirkman, who wrote (and still writes) the original comic. My only real complaint about it, except for some oddly repetitive material in the first couple of chapters, is that it's full of "sidebars" -- often several pages long -- that interrupt the main text, thus necessitating a lot of annoying flipping back and forth. Otherwise, while I wouldn't call it essential reading for fans of the show, it is a generally pleasant little supplement to it. For some definition of the word "pleasant" that includes lots of pictures of flesh-eating corpses, anyway.