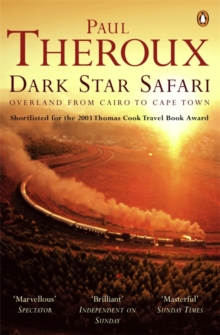 Dark Star Safari : Overland from Cairo to Cape Town
Paperback
Description
Dark Star Safari is Paul Theroux's now classic account of a journey from Cairo to Cape Town.Travelling across bush and desert, down rivers and across lakes, and through country after country, Theroux visits some of the most beautiful landscapes on earth, and some of the most dangerous. It is a journey of discovery and of rediscovery -- of the unknown and the unexpected, but also of people and places he knew as a young and optimistic teacher forty years before.Safari in Swahili simply means "journey", and this is the ultimate safari. It is Theroux in his element -- a trip where chance encounter is everything, where departure and arrival times are an irrelevance, and where contentment can be found balancing on the top of a truck in the middle of nowhere.Praise for Paul Theroux:'Theroux's work remains the standard by which other travel writing must be judged' Observer'One needs energy to keep up with the extraordinary, productive restlessness of Paul Theroux ... [He is] the most gifted, most prodigal writer of his generation' Jonathan Raban'Always a terrific teller of tales and conjurer of exotic locales, he writes lean prose that lopes along at a compelling pace' Sunday TimesPaul Theroux's books include Dark Star Safari, Ghost Train to the Eastern Star, Riding the Iron Rooster, The Great Railway Bazaar, The Elephanta Suite, A Dead Hand, The Tao of Travel and The Lower River.
The Mosquito Coast and Dr Slaughter have both been made into successful films.
Paul Theroux divides his time between Cape Cod and the Hawaiian islands.
Information
Format: Paperback
Pages: 512 pages
Publisher: Penguin Books Ltd
Publication Date: 01/08/2003
Category: Travel writing
ISBN: 9780140281118
Free Home Delivery
on all orders
Pick up orders
from local bookshops
Reviews
Showing 1 - 5 of 11 reviews.
Previous | Next
Review by johnthefireman
16/06/2015
Very good in many respects. Theroux revisits Africa, where he worked in his youth, and travels overland from Cairo to the Cape. He evokes the feel of Africa, but both I and my African partner are left with a slightly uncomfortable feeling that he is being patronising and condescending towards Africans, like so many travel writers. He is very crticial of aid agencies and I agree fully with him on that.
Review by uryjm
16/06/2015
Quite timely reading this when Africa's plight is being highlighted in the news so much at the moment. Theroux travels overland from Cairo to Cape Town offering his jaundiced view on places and people along the way, reserving his most scathing attacks for aid agencies and workers. He can't resist noticing that the best cars are the white Land Rovers driven by the charities, that the best hotel rooms are stuffed full of aid workers paying more per night than the average African earns in a month or passing on gossip that he's heard that agency workers have demanded sex for food. What has all this aid for Africa achieved? You can't help but feel it is less than nothing, and that is certainly the view that Theroux wants to push.I always come away from reading Theroux travelogues feeling I've gained one or two unique insights from his writing that you wouldn't get from the news, documentaries or novels. Dark Star Safari is definitely one of his best, and mostly because underneath it all you feel that he really does care about Africa and Africans and wants to see the Continent thrive.
Review by ZacAbeel
16/06/2015
Author Paul Theroux is a man that I admire a lot. For most of his life he has traveled to almost every place imaginable and written about his experiences. What makes Theroux different from many travel writers is that he rarely ever visits famous monuments or landmarks that a country would advertise on their tourism brochures. Instead, Theroux likes to wander into countries to meet the people living there. It is his opinion, that people are the most important factor when determining why a place is like it is. Thus, to truly understand a region of the world, the people that make up a place, must be understood first.In Dark Star Safari Theroux travels from Cairo, Egypt to Cape Town, South Africa by any mode of transportation except plane. The end result is this book that chronicles Theroux meeting people from all the African countries in between and also meeting many different Americans and Europeans that have come to help solve some of Africa's biggest problems. Along the way Theroux gets stranded, shot at, robbed, and left to walk, bus, canoe, and train towards his goal. This book does an excellent job of bringing perspective and sense to the many preconceived notions that we as Americans have about Africa and its problems. This book forced me to consider many of the policies that America and the rest of the world have developed for Africa, and whether or not they are the right ones. The book also does an outstanding job of showing what Africa is really like - not just a place of chaos and dread. Instead, Theroux is able to bring out some of the charming qualities that the continent has to offer and some of the realities that many people living there and here do not want to face.
Review by CaptainHaddock
16/06/2015
After a pause of some years when I devoured his books, I thought it was time to give this one a chance. It certainly is the post political of his travel books. As always he brings people and places to life and gives the reader a deeper insight of the situation in Africa. Nevertheless I found it less gripping than his former books, because I noticed a bit more of self-righteous and a bit less of self-mockery.
Review by co_coyote
16/06/2015
Africa seems almost hopeless to me. I read this book before I traveled there to see for myself. It wasn't as bad as I thought, but nearly. Theroux, though, remains fairly optimistic. Always one to travel the way less traveled, Theroux is my kind of traveler and guide. For understanding a place from the inside out, Theroux is the best.